Pianist Roadfeldt Next in Concert Series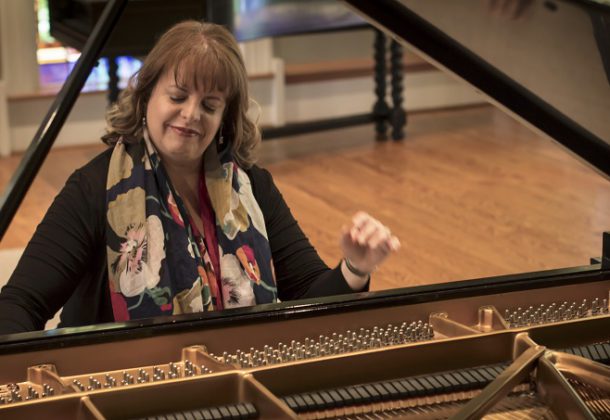 Pianist Holly Roadfeldt will perform at the next College of Southern Maryland Ward Virts concert. The free performance will be at 3 pm April 8 at CSM's Prince Frederick Campus, Building B, Multipurpose Room at 115 J.W. Williams Road in Prince Frederick. Doors open at 2:30 pm. Call 301-934-7828 or visit the college's website for more information.
Since making her orchestral debut with the Toledo Symphony Orchestra at the age of 13, Ms. Roadfeldt has continued to be an active solo pianist and chamber musician performing standard and eclectic recital programs in the US, Europe, and Asia. She says her mission is to inspire and advocate for piano music of the highest caliber, and she regularly mixes newly composed music with established masterpieces. With her most recent endeavor "The Preludes Project," she commissioned 16 composers to write preludes to be performed alongside works from the standard repertoire. Ms. Roadfeldt premiered 65 preludes in 17 states as a guest artist at multiple venues including the University of Akron, University of Missouri-Kansas City, Oklahoma State University, Wichita State University, the Peabody Institute, University of Nebraska-Kearney, Western Carolina University, Carson-Newman University, the College of Southern Maryland, Westminster College, the University at Albany, Manchester University, and Lafayette College.
Other upcoming events at the college include:
CSM 2018 Tri-County Job and Career Fair. 10 am-2 pm April 10. College of Southern Maryland, La Plata Campus, Center for Business and Industry (BI) Building, 8730 Mitchell Road, La Plata. The 2018 Tri-County Job and Career Fair provides an opportunity for area job seekers to meet with employers from throughout the region. A representative from the federal government will present a workshop, "Navigating the Federal Hiring Process." 301-934-7569.
CSM Summer Registration Opens for Non-credit Courses. April 11. All College of Southern Maryland Campuses. Summer registration opens for non-credit courses.
CSM Social Justice Day Speaker: Lisa Diaz. 4-6 pm April 11, College of Southern Maryland, La Plata Campus, Community Education (CE) Building, Room 101, 8730 Mitchell Road, La Plata. At part of Social Justice Day, Lisa Diaz, creator of Lauryn's Law Inc., will share where services and resources are available when encountering a mental health crisis. Sponsored by CSM Counseling Services. [email protected], 301-539-4805.
CSM Annual Juried Student Exhibition. April 13-May 11. College of Southern Maryland, La Plata Campus, Fine Arts Center, Tony Hungerford Memorial Art Gallery Exhibition, 8730 Mitchell Road, La Plata. In addition to the month-long exhibit, an award ceremony, which is open to the students, their families and the community, will begin at 2:30 pm April 24. The gallery is open 9 am-9 pm Monday through Friday and 10 am-6 pm Saturday.
CSM Barbershop Extravaganza. 4 pm April 14. College of Southern Maryland, La Plata Campus, Fine Arts (FA) Building, Theater, 8730 Mitchell Road, La Plata. CSM's Barbershop Extravaganza features catchy tunes performed by Southern Mix, a men's barbershop chorus that rehearses and performs at the college, and special guest barbershop quartet Gimme Four. $5 in advance, $7 day of event. [email protected], 301 934-7828.
Visions of Verses: A Special Evening of Artworks and Poetry. 5-8 pm April 14, calvART Gallery, 110 South Solomons Island Road, Prince Frederick. The College of Southern Maryland, in collaboration with the Arts Council of Calvert County and the calvART Gallery, will host an evening of artworks and poetry readings to celebrate the value of art in our lives. The program will feature poetry by CSM faculty and students and other Southern Maryland poets as well as paintings, jewelry, ceramic and fused glass pieces by CalvART Gallery member artists inspired by the poems.
For more about the College of Southern Maryland, visit its Leader member page.