Pax River Graduates 21 Systems Engineers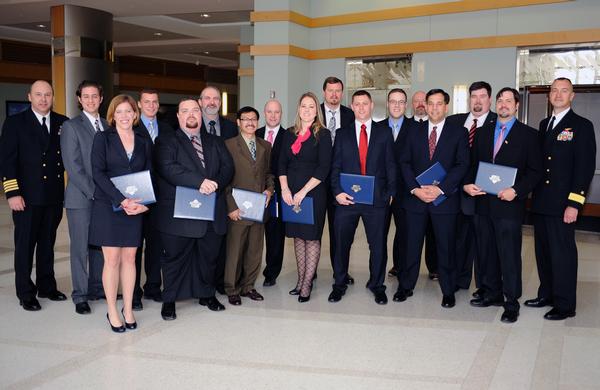 Twenty-one civilian employees received Master's Degrees in Systems Engineering from the Naval Postgraduate School during a ceremony held at Naval Air Station Patuxent River on April 11.
The students were selected for the degree program based on their ability to implement and execute NAVAIR systems engineering projects. The program is a part of the Naval Postgraduate School (NPS) and is sponsored by NAVAIR.
Rear Adm. Randy Mahr, Commander, Naval Air Warfare Center Aircraft Division, congratulated the graduates, noting all the hard work and perseverance they put forth in order to earn their degrees: "The hours were long and the midnight oil was burned," he said. "Today you are all Systems Engineers"¦and you can be proud of your accomplishments. Well done team mates."
The ceremony took place in the NAVAIR Headquarters atrium, where Dr. Paul Montgomery and Dr. Gene Paulo of NPS presented diplomas. Graduates from Naval Air Stations Patuxent River, Jacksonville and North Island attended the ceremony and the graduating class included students from China Lake and Cherry Point.
The Master of Science in Systems Engineering Degree program began in 2008 and is a two-year, intensive program that involves completing 16 classes while working at NAVAIR. Each student must dedicate time to classes and outside study while balancing the demands of a full-time job.
Mahr stressed the important roles played by the graduates in their current jobs as well as those in the future.
"The degree you now hold as working design engineers, computer scientists, logisticians and program managers will help you to take all factors of a system into consideration when making program decisions," said Mahr. "Your big picture skills will help us determine where those precious defense dollars will go to deliver the products needed to keep our country safe."
NAWCAD Public Affairs