Norquist to Give Update on DoD Audit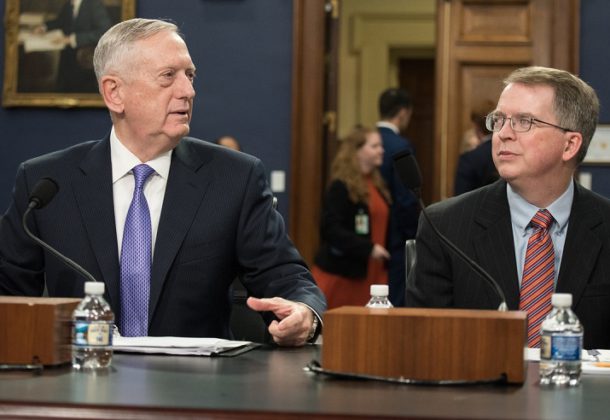 Morning Coffee is a robust blend of links to news around the Internet concerning the Naval Air Station Patuxent River

economic community. The opinions expressed here do not reflect opinions of the Leader's owners or staff.
What to expect from the Pentagon audit? DoD Comptroller David Norquist is scheduled to testify before the House Armed Services Committee today, Jan. 10, to discuss the audit's progress. Defense One reports the audit will expose some of the waste, fraud, and abuse that Congress cites as problematic. About 1,200 auditors will comb through the military's books and look at nearly every aspect of the armed services, reports Washington Examiner.
The Trump administration is nearing completion of a new "Buy American" plan that calls for US military attaches and diplomats to help drum up billions of dollars more in business overseas for the US weapons industry, going beyond the limited assistance they currently provide, reports Sydney Morning Herald.
Unnamed US officials are saying that the spy satellite launched by SpaceX on Sunday failed to separate from the second stage of the Falcon 9 rocket and is assumed to have broken up or plunged into the sea, Reuters reports. The classified intelligence satellite was built by Northrop Grumman.
The air war against ISIS in Syria and Iraq allows Russia and other US adversaries to gather crucial intelligence on US operations, reports Aviation Week, and the F-22 Raptor is particularly vulnerable.
The Navy and Marine Corps have to improve readiness without a larger force or even additional training and maintenance money, says a Breaking Defense commentary. That means their only option is to take on fewer missions and why NavySec Richard Spencer has to challenge the Goldwater-Nichols Act of 1986.
The US military is not prepared to conduct radio and radar jamming against high-end adversaries, Rep. Don Bacon told Breaking Defense. "We are moderately prepared for the low-end fight like we've seen in Iraq and Afghanistan. That's what we've been doing," Rep. Bacon, a retired one-star general, said. "But in a high-end fight, we are not prepared."
The USS Carney has made its way to the Black Sea, reports Stars and Stripes. It's the third US destroyer since August to patrol the region, joining the Arleigh Burke-class destroyers USS Porter and James E. Williams.
The Navy wants to be able to better gauge the condition of its shipboard Aegis combat systems and better pinpoint any existing problems, reports Jane's 360. "We continue to improve the level and fidelity of the self-diagnosis the system can do," said James Sheridan, Aegis director for Lockheed Martin, the systems' main contractor.
Marine Corps Times reports the rapid drawdowns in Iraq and Afghanistan have limited the number of combat deployments for conventional Marines. But even with recent deployments to Afghanistan, Marines are filing in advisory roles with the job to help train and equip partner forces, not engage in combat operations. Army Times reports US commanders continue to prepare the Afghan security forces for an aggressive push against the Taliban this year. Desperate to finance their insurgency in Afghanistan, the Taliban has been using many illegal ways of making money, including kidnapping and extortion, and smuggling drugs, minerals, and precious stones, reports Voice of America.
Military Times offers tips for short-term military renters who often find themselves the target of scams and unsavory landlords.
A 2018 wish list? A funded military strategy, a real budget, fewer tweets from the president, and less lame training are a few of the items on Military Times' list.
Contracts:
BAE Systems Information and Electronic Systems Integration Inc. Electronic Systems, Wayne, New Jersey (FA8726-18-D-0004); The Boeing Co. through PhantomWorks, Huntington Beach, California (FA8726-18-D-0006); Booz Allen Hamilton, McLean, Virginia (FA8726-18-D-0008); Cubic Defense Applications Inc., San Diego, California(FA8726-18-D-0012); L-3 Technologies Inc. Communications Systems, West, Salt Lake City, Utah(FA8726-18-D-0010); Lockheed Martin Corp., Rotary and Mission Systems, King of Prussia, Pennsylvania (FA8726-18-D-0007); Northrop Grumman Systems Corp., Airborne C4ISR Systems Div., Herndon, Virginia (FA8726-18-D-0005); Raytheon Space and Airborne Systems, Marlborough, Massachusetts (FA8726-18-D-0009); and Rockwell Collins, Cedar Rapids, Iowa (FA8726-18-D-0011), have been awarded a $496,000,000 indefinite-delivery/indefinite-quantity, multiple award contract to support tactical platforms and time-sensitive applications for the DataLinks Enterprise community. More specifically, the nine contractors will provide flexibility to accommodate command and control data and myriad types of signals intelligence, geospatial intelligence and full-motion video data and information capture. The location of performance and expected completion date will vary by delivery order. This award is the result of a competitive acquisition with 10 offers received. Research, development, test, and evaluation; and operations and maintenance funds in the amount of $5,000 will be obligated to each company at the time of award. Air Force Life Cycle Management Center, Hanscom Air Force Base, Massachusetts, is the contracting activity.
Fincantieri Marine Systems North America Inc., Chesapeake, Virginia, is being awarded a $16,467,551 modification under a previously awarded firm-fixed price, indefinite-delivery/indefinite-quantity contract (N55236-17-D-0009) to exercise option year one to provide maintenance support for the Mine Countermeasure-1 class main propulsion diesel engine and ship service diesel generator. The overall total contract value ceiling remains unchanged at $86,268,629. Work will be performed in the homeports of San Diego, California; Sasebo, Japan; Manama, Bahrain; and ports-of-call as required, and are scheduled to be completed by January 2019. No funding is being obligated at time of award. Obligated funding will cover preventive maintenance services and travel in the base year in accordance with work item specifications and work item plans, drawings, other references, delivery schedule, and all other terms and conditions set forth in the contract.  This contract was not competitively procured in accordance with 10 US Code 2304(c)(1). The independent contractor, under the direction of the Regional Maintenance Center and not as an agent of the government, shall provide diesel engine technical, engineering, and field service support for Mine Countermeasure-1 class ships homeported in San Diego, California, and forward deployed in Japan and Bahrain. The Southwest Regional Maintenance Center, San Diego, California, is the contracting activity.