New DoD Acquisition Shortcuts Open to Pax Contractors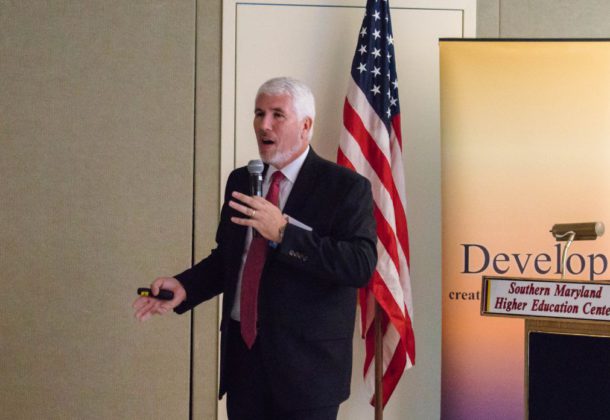 The Department of Defense has new and existing authorities to cut through traditional, lengthy acquisition processes, Tim Morris, former director of F-35 development for the Air Force, told an audience at a briefing on rapid acquisition hosted by The Patuxent Partnership this month.
Mr. Morris, currently the manager of acquisition management for WBB Inc., gave a nod to the room full of NAVAIR contractors and said, despite his Air Force background, the potential of underutilized rapid acquisition authorizations now in place applies to them as well.
Referred to as Sections 803, 804, 805, and 806, these and a few other auxiliary authorities in the National Defense Authorization Act seek to accelerate getting identified requirements and new capabilities fielded within five years.
What the Department of Defense needs, immediately, are "fieldable prototypes that demonstrate new capabilities and meet emerging needs," Mr. Morris said. The sections address reducing the time and procedural delays that hamper contractors from rapidly responding to the needs.
It doesn't have to be a big thing and it should be open architecture, he said. "We want one size fits all."
There are many needs demanding immediate attention. US adversaries are advancing prototype after prototype and multiple generation aircraft in the time it takes the US to develop one weapon system.
"Where can we save time?" he asked and projected a chart of Air Force aircraft comparing how long each had spent in the various stages of acquisition. The most significant time increase in fielding a new system is in the earliest stages.
"If you look at a lot of these programs from the time they started to first flight – it's about the same," said Mr. Morris.
"This is what we always blame on acquisition: is the time it takes to develop things. . . . The systems engineering timeline is the same. But where we can really save time in the acquisition process is what I call 'time to go': from when someone says 'hey, there's a requirement' to the time it takes us to actually start doing something. That's where we've really slowed down over the years."
Meanwhile, as the US takes longer and longer to field new weaponry, Russia and China are barreling forward. China, Mr. Morris cited in one example, produced six iterations involving hardware and software configurations on its J-20 stealth combat jet "while we developed the F-35."
"We're losing our operational edge. We have got to get more agile."
The rapid acquisition authorities have been in place since the FY16 NDAA. "Congress is getting impatient," Mr. Morris said. In FY18 lawmakers began exerting pressure on DoD to move aggressively on these authorities.
Section 803 is about "doing things fast" and addressing "urgent operational needs" such as in Iraq and Afghanistan. Section 805 is a high DoD authority described in the law as the use of alternative acquisition paths to acquire critical national security capabilities. It was Section 804 that Mr. Morris most encouraged Pax contractors to consider.
Section 804 is a prototyping multi-tier acquisition for rapid prototype and rapid fielding within two to five years. It's six months to start and there is no dollar amount attached to the authority, according to Mr. Morris.
He also elaborated on Section 806, which allows the Secretary of Defense to waive acquisition laws to acquire vital national security capabilities – getting technology into the field now, from prototype to demonstration and operation. The requirement seeks to meet high priority needs of the warfighter or to reduce the cost of the system.
Mr. Morris early on acknowledged "we've created this behemoth" of an acquisition process during years of failed attempts to streamline. And he agreed fear of risk has at time paralyzed the process. "We'll do anything not to have a failure."
Some in the audience were skeptical that this effort would prove successful platform in streamlining acquisition or changing a risk-adverse culture. Mr. Morris agreed that not everyone was yet onboard but that "rolling training" of project managers was ongoing. What is different now, he said, "This is Congress pressing, not DoD acting."
About The Patuxent Partnership
TPP fosters collaboration and the sharing of knowledge and expertise across a diverse network that includes government, industry, and academia. TPP also supports STEM education and workforce development within the local community including hosting programs of interest to NAVAIR, NAWCAD, and the broader DoD community.
To learn more about The Patuxent Partnership and its programs, visit its Leader member page.