NAWCAD Head Honored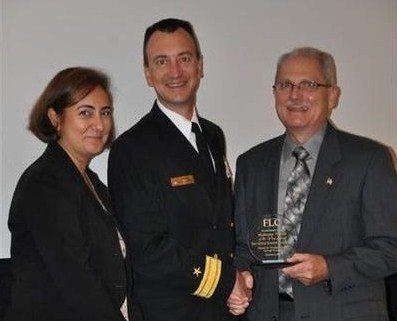 Rear Adm. Randy Mahr was named lab director of the year by the mid-Atlantic region of the Federal Laboratory Consortium for Technology Transfer.
The award recognizes a lab director for outstanding contributions to support technology transfer activities within an organization and the communities it serves.
The region consists of more than 70 labs at the FBI, CIA, NASA and other federal agencies across five states and the District of Columbia.
As commander of the Naval Air Warfare Center Aircraft Division, Mahr oversees all labs. After receiving the award Oct. 6, he said he accepted on behalf of those who work in the labs and the head of the Technology Transfer Office of Research and Technology Applications at Pax River.
"I accepted the Federal Lab Consortium Mid-Atlantic Region Lab Director of the Year Award on behalf of the men and women of NAWCAD Pax," Mahr said. "It has nothing to do with me, but everything to do with the great work of the NAWCAD Technology Transition Office, led by [retired Navy Senior Chief Petty Officer]Paul Fritz."
Since 2004 NAWCAD has had more than 75 cooperative research and development agreements, 15 patent license agreements and 37 patent applications.
"This is the first time a NAVAIR organization has received this award," he said. "This recognition shows we are on the right track."
Source: NAWCAD Public Affairs