Navy Women Targeted in Expanding Nude Photo Scandals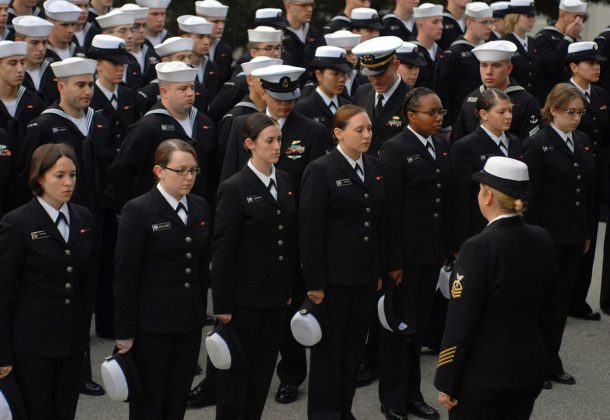 Morning Coffee is a robust blend of links to news around the Internet concerning the Naval Air Station Patuxent River

economic community. The opinions expressed here do not reflect opinions of the Leader's owners or staff.
Marine Commandant Gen. Robert Neller faced more than two hours of questioning from angry senators, asking whether Marines online harassment and denigration of women and sharing nude photos of women without their consent represents a cultural problem within the Corps, reports Military Times. Senators pointed out that the Marine Corps has known for years about male Marines harassing and denigrating women online, yet the Corps has failed to curb such abusive behavior.
The Navy is knee-deep in its own nude-photo scandal, reports Navy Times. Women from more than a dozen Navy commands were specifically targeted by online users seeking nude photos.
President Donald Trump gives the CIA new authority to conduct drone attacks against suspected militants, US News & World reports, rolling back the Obama administration's limits on the CIA paramilitary operations.
Fox News calls the pirate hijacking of an oil tanker off the coast of Somalia possibly President Trump's first international test. It's the first hijacking of a large commercial vessel there since 2012.
DefSec Jim Mattis withdraws retired senior diplomat Anne Patterson as his choice for policy in the face of White House misgivings about Senate confirmation. Two Republican senators of the Armed Services Committee, Tom Cotton (R-AK) and Ted Cruz (R-TX), reports Defense News, oppose Patterson's nomination because she served as US ambassador to Egypt from 2011 to 2013. Cruz said, "I believe that political appointees in the foreign policy and national security arena need to reflect the president's priorities."
Rep. Jim Sensenbrenner (R-WI) wants the Mexican drug cartels to fund a wall on US southern border, reports The Washington Examiner. His plan relies on funding from civil asset forfeiture, a process by which law enforcement can seize money they suspect is linked to drug trade, even before a case involving the person goes to trial.
Can we talk in private? Maj. Gen. Robert "Bo" Dyess is trying to find a way the Army can hold private dialogues with defense contractors to "get a reality check" on what the industry can actually deliver, reports Breaking Defense. Current regulations prohibit such conversations when, Dyess says, "What [companies] would really like to do is have a session in which they could go in proprietarily — industry, government, acquisition, resourcing (all) together — to ask specific questions they do not want to talk about in a large open forum. … That is the direction we're going to go in."
The Justice Department indicted two Russian spies and two criminal hackers in connection with the heist of 500 million Yahoo user accounts in 2014. This marks the first US criminal cyber charges against Russian government officials, reports The Washington Post. The charges include hacking, wire fraud, trade secret theft, and economic espionage.
When the Federal Reserve raises rates, credit card holders feel it first, says The New York Times. If the Federal Reserve raises the short-term interest rates by a quarter-point, the typical credit card holder who is carrying a balance will quickly see annual interest charges rise to 16.75 percent from 16.5 percent. Rates on auto loans and home equity loans also will creep higher. Mortgage rates will follow, but over a longer period of time.
Contracts:
Johns Hopkins University Applied Physics Laboratory, Laurel, Maryland, is being awarded a cost-plus-fixed-fee contract for $7,551,000 to provide assessments and alternatives of offensive capabilities within the domains of air, land, sea, space and cyberspace, missions and warfare areas that asymmetrically mitigate threat effectiveness, impose cost, and/or create ambiguity in adversary decision-making. Work performance will take place in Arlington, Virginia; Alexandria, Virginia; and potentially other metropolitan Washington, District of Columbia, locations. The expected completion date is Feb. 7, 2018. Fiscal 2017 research development test and evaluation funds are being obligated at the time of the award. Washington Headquarters Services, Arlington, Virginia, is the contracting office (HQ0034-13-D-0003).
Milburn Academy Inc., Woodbridge, Virginia, was awarded an $8,220,113 modification (P00002) to contract W91247-16-D-0006 for U.S. Army Forces Command foreign language support services option period No. 1. Work locations and funding will be determined with each order, with an estimated completion date of June 30, 2019. US Army Contracting Command, Fort Bragg, North Carolina, is the contracting activity.
MJL Enterprises LLC, Virginia Beach, Virginia, has been awarded a maximum $33,307,500 firm-fixed-price contract for medical equipment, including maintenance and spare parts for the equipment. This is a five-year contract with no option periods. This was a competitive acquisition with 125 responses received. Location of performance is Virginia, with a March 12, 2022, performance completion date. Using customers are Army, Navy, Air Force, Marine Corps, and federal civilian agencies. Type of appropriation is fiscal 2017 through 2022 defense working capital funds. The contracting activity is the Defense Logistics Agency Troop Support, Philadelphia, Pennsylvania (SPE2D1-17-D-0026).