Navy UCLASS Plans Disrupted by Congress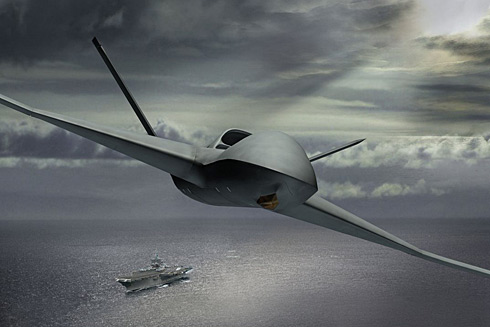 Morning Coffee is a robust blend of links to news around the internet concerning the Naval Air Station Patuxent River economic community. The opinions expressed here do not necessarily reflect those of the Leader's owners or staff.

Navy plans to deploy unmanned, carrier-based aircraft within a decade were disrupted when Congress called the program short-sighted and suspended funding until further study, reports The Los Angeles Times. Current Navy call for  reconnaissance, unmanned aircraft with limited ability to bomb behind enemy lines. Congressional leaders want stealthy drones to attack targets in contested areas, which could end aviation as the Navy knows it. An analyst stated, "It could usher in a new era in which major strike missions are turned over to a machine. That will be difficult for many carrier aviators to swallow." Robert C. Martinage, former acting undersecretary of the Navy, said, "Drones have disrupted the military's usual way of doing things. And there's a lot of pressure to get this program right."
The DoD's war budget will likely climb from the $30 billion proposed for FY16 despite force reduction in Afghanistan, according to The Wall Street Journal. The Overseas Contingency Operations budget, a supplement to core Pentagon spending is monitored by defense contractors because it provides a buffer to cuts in core procurement spending. In January the Pentagon established a placeholder OCO budget of $79 billion for the coming fiscal year but it is scheduled to drop to an annual $30 billion over the remainder of the five-year plan. The OCO budget peaked at $162 billion in 2010.
The Navy announced significant changes to the current advancement policy, for sailors, according to dcmilitary.com. The changes go into effect fall, 2014 and increase the weight on superior performance and technical knowledge and decrease the value of longevity-based factors.
Northrop Grumman used Dell's commercial-off-the-shelf (COTS) technology to develop the  X-47B unmanned combat air system's high-performance ground control system, resulting in lower costs than a custom solution, reports UPI.
Hundreds of thousands of troops are receiving emails inviting them to participate in an official, first-of-its-kind survey seeking to gauge their feelings about their pay and benefits package, reports the Military Times. The survey aims to identify which pay and benefits programs are most highly valued and also which may be inefficient with cost exceeding their perceived value. An official report of results is due to Congress February 2015 to guide changes to the current compensation system.
NAS Pax River continues to participate in Project Graduation program as it has since launched in St. Mary's County in 1984, according to dcmilitary.com. Since then, high school seniors from all county high schools have commemorated graduation with a signed pledge to remain alcohol and drug free that evening which allows them to attend an all-night celebration which, for the past 30 years, has taken place at the air station's Drill Hall.
An engine factory in Turkey will produce engine parts for the F-35 stealthy fighter, according to Worldbulletin. The factory, a joint enterprise with Turkey's Kale group and Pratt & Whitney, is expected to employ around 700 to 750 people.
The Navy awarded OMNITEC Solutions, Inc. a five-year, $31 million cost-plus-fixed-fee contract, the company announced last week, reports Seapower. The company will continue to work on improving acquisition planning and execution of Navy and Marine Corps Air programs with a goal of improved affordability. These services support NAVAIR and program executive officers in Arlington, Va., and Patuxent River, Md.