Navy Carrier Aviation Back in Arctic Circle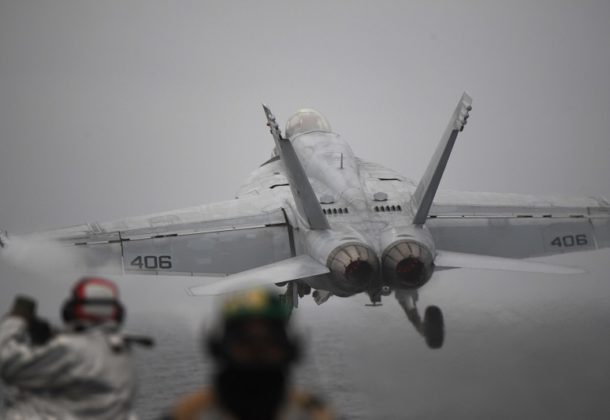 Morning Coffee is a robust blend of links to news around the internet concerning the Naval Air Station Patuxent River 

economic community. The opinions expressed here do not reflect opinions of the Leader's owners or staff.
The Harry S. Truman entered the Norwegian Sea last week, reports Navy Times, bringing Navy carrier aviation back to the Arctic Circle for the first time in almost 30 years.
Lockheed Martin has allayed safety concerns over its F-35 Lightning II fighter jet following its first crash in late September, reports Channel News Asia, pointing to a long record of crash-free flights prior to the incident.
The MH-60 Seahawk crash on the USS Ronald Reagan's flight deck Friday injured 12 sailors, reports Navy Times. The carrier is conducting routine operations in the Philippine Sea with the US 7th Fleet.
Two HH-60H Seahawks from Helicopter Sea Combat Squadron 85 ran into each other while taxiing on a ramp at Kadena Air Force Base in Japan, earlier in October. This marks at least the second major mishap for the "Firehawks" this calendar year, reports Navy Times.
The 10th F-35A to be delivered to the Royal Australian Air Force has arrived at Luke Air Force Base in Arizona, reports Mirage News, joining Australia's other JSF aircraft on the flightline.
USNI News provides an analysis of the Navy's new SSN(X) attack submarine. The report says it's going to be faster, more lethal and more expensive.
The US Air Force is preparing to roll out more fixes over the next few weeks to help stop the hypoxia-like problems that have plagued the T-6 Texan II trainer, reports Air Force Times.
The Defense Advanced Research Projects Agency officials say common sense "has been a big problem in AI for decades," reports Defense Systems. "This is one of the biggest barriers between narrow AI, which is what we have plenty of today, and kind of more-general AI we'd like to have more of in the future," said Dave Gunning, a program manager at DARPA. The agency is planning the Machine Common Sense program, part of its $2 billion AI Next campaign.
The Navy has posted the final solicitation for the services portion of its multibillion dollar NGEN contract to help run and upgrade the branch's IT networks also used by the Marine Corps, reports Defense Systems. The deadline is Jan. 10, 2019.
Turkish and American troops could begin conducting joint patrols in northern Syria within the coming days, the top US commander for the Middle East told Military Times.
One hundred seventy-two veterans won primaries this year and will appear on midterm ballots across the country, reports Military Times. Their military service spans from the 1950s to today, and includes time spent in the active-duty ranks, reserves and the Coast Guard.
Early voting in Maryland begins Thursday, Oct. 25, and continues until Thursday, Nov. 1. Click here for more information on early voting.
Maryland Matters has information on statewide races for governor, comptroller, and attorney general.
Contracts:
National Industries for the Blind, Alexandria, Virginia, has been awarded a $13,144,298 modification (P00008) exercising the second option period of a one-year base contract (SPE1C1-17-D-B003) with four one-year option periods for the advanced combat helmet pad suspension system. This is a firm-fixed price, indefinite-delivery/indefinite-quantity contract. Locations of performance are Virginia, Pennsylvania and North Carolina, with an Oct. 26, 2019, performance completion date. Using military service is Army. Type of appropriation is fiscal 2019 through 2020 defense working capital funds. The contracting activity is the Defense Logistics Agency Troop Support, Philadelphia, Pennsylvania.
Colonna's Shipyard Inc., Norfolk, Virginia, is awarded a $7,966,158 firm-fixed-price contract for a 67-calendar day shipyard availability for the regular overhaul and dry docking of USNS Spearhead (T-EPF 1). Work will include furnishing general services for the ship; physical security at private contractor's facility; clean and gas-free tanks, voids, cofferdams and spaces, heater exchangers; structural inspection and weld repair; aluminum hull repair and structural repairs; support for main propulsion engine overhauls and support for generator overhauls; reduction gear maintenance; annual stern ramp maintenance; communication and navigation annuals; lifesaving equipment annuals; annual ride control maintenance; stern ramp control system and extension swap; tunnel paint expansion and underwater hull paint touch up; and docking and undocking of the vessel. The contract includes options which, if exercised, would bring the cumulative value of this contract to $9,162,956. Work will be performed in Norfolk, Virginia, and is expected to be completed by Jan. 10, 2019. Fiscal 2019 operations and maintenance funds in the amount of $9,162,956 are obligated at the time of award. Contract funds will not expire at the end of the current fiscal year. This contract was competitively procured as a small business set-aside, with more than two companies solicited via the Federal Business Opportunities website, with three offers received, with two found to be in the competitive range. The US Navy's Military Sealift Command, Norfolk, Virginia, is the contracting activity (N3220519C6700).