NAVAIR's First Woman Admiral Promoted at Pax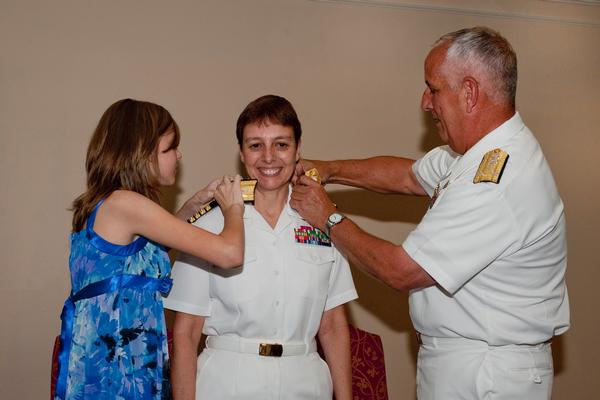 The assistant commander for NAVAIR logistics and industrial operations made naval history with her promotion to flag officer during a ceremony at Naval Air Station Patuxent River Aug. 1.
With her new rank, CJ Jaynes became NAVAIR's first woman admiral, the Navy's 79th woman promoted to rear admiral as well as the first woman in the sea service's aerospace maintenance duty officer community to achieve flag officer.
Hundreds of co-workers, family and friends witnessed the promotion of the Greensburg, Pennsylvania native.
"I owe a great deal of thanks to my peers, mentors, the wonderful Navy family with whom I've served, and the unfailing support of my friends and family," Rear Adm. Jaynes said in a prepared statement. "I am very fortunate to have such solid support network."
In her current position, Rear Adm. Jaynes supports all naval aviation aircraft, weapons and systems operated by Sailors and Marines. She is also responsible for overseeing logistics support efforts for both fielded and developmental aviation systems.
Source: COMFRC Public Affairs