National Guard Begins Deployment at Border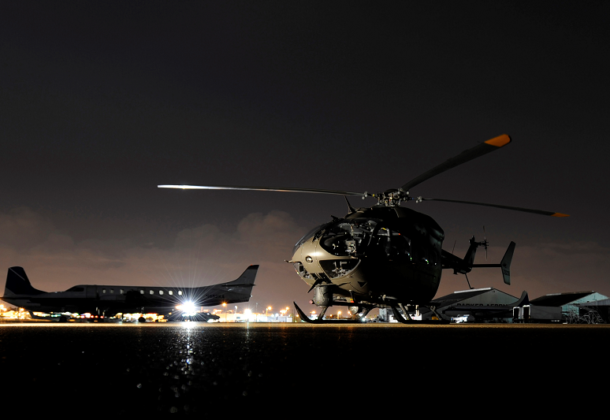 Morning Coffee is a robust blend of links to news around the internet concerning the Naval Air Station Patuxent River

economic community. The opinions expressed here do not reflect opinions of the Leader's owners or staff.
President Donald Trump will send 2,000 to 4,000 National Guard troops to the US border with Mexico, reports Voice of America. Mr. Trump said he would keep the troops there until a border wall was built. DefSec Jim Mattis has specified that the Guard will assist the Department of Homeland Security but not perform law enforcement missions and will be armed only when necessary for self-defense, reports the Chicago Tribune. Rep. Mac Thornberry (R-TX), chairman of the House Armed Services Committee, says he supports border security but doesn't believe military funds should pay for it, reports Military Times, especially given the readiness challenges and modernization needs of US forces.
Military officials have identified the four Marines killed in the April 3 CH-53 Super Stallion crash in California. They are Capt. Samuel A. Schultz, 1st Lt. Samuel D. Phillips, Gunnery Sgt. Derik R. Holley, and Lance Cpl. Taylor J. Conrad, reports Marine Corps Times. The helicopter crashed after leaving the Marine Corps Air Ground Combat Center Twentynine Palms.
The Thunderbirds pilot killed in the F-16 crash last week at the Nevada Test and Training range has been identified. Maj. Stephen Del Bagno was killed April 4 during what the Air Force called a routine aerial demonstration training flight.
President Trump wants US troops out of Syria by the fall. Military Times reports the White House has ordered Trump's national security team not to speak of a "timeline" for withdrawal. But as the president mulls a US pullout from Syria, insisting that the Islamic State group is "almost completely defeated," the extremist group is showing signs of a revival, reports The Associated Press.
The Navy plans to eliminate professional military knowledge questions from rating advancement exams and instead will implement a brand new, online, 100-question test on these subjects by Oct. 1, report Navy Times.
Dreading the potential return of sequestration cuts in 2020, the Army has started scouring its acquisition programs for things it can cancel to free up funds for its Big Six modernization priorities — artillery, armor, aviation, air & missile defense, networks, and soldiers — Army Secretary Mark Esper tells the Heritage Foundation. The review has begun "racking and stacking" programs for analysis, Breaking Defense reports.
Director of National Intelligence Dan Coats says the US is still mulling creation of a "Space Force" as a new branch of the military to counter the growing threat of Russian and Chinese anti-satellite weapons, reports Military.com.
The guided-missile destroyer USS Winston S. Churchill left Naval Station Norfolk late last week for a scheduled deployment, reports WTKR News 3 TV. The ship is heading to the Navy's 5th and 6th Fleet areas of operation.
The Marine Corps' main cyber war-fighting organization is set to grow, reports Fifth Domain. Maj. Gen. Lori Reynolds, commander of Marine Corps Forces Cyberspace Command, said her force doesn't have the depth to do what the Army is doing in experimenting with integrated offensive and defensive cyber effects at the tactical edge with full brigades. This is one of the reasons for the expansion at MARFORCYBER, she says.
The US State Department has cleared the potential sale of Paladin Howitzers to Saudi Arabia and MQ-4C Triton unmanned systems to Germany, reports Defense News, with a potential combined price tag of $3.81 billion.
 Contracts:
Lumbee Tribe Enterprises, Pembroke, North Carolina, is being awarded a not-to-exceed ceiling $22,000,000 five-year, firm-fixed-price, indefinite-delivery/indefinite-quantity contract in support of the Joint Non-Lethal Weapons Directorate, Quantico, Virginia. Support services will include advisory and assistance, science and technology, and research and development. Work will be performed in Stafford, Virginia (50 percent); and Quantico, Virginia (50 percent), and the ordering period is expected to be completed by April 6, 2023. No funds will be obligated at the time of award. Fiscal 2018 research, development, test and evaluation (Marine Corps) funds in the amount of $549,868 will be obligated on the first task order immediately following contract award and no funds will expire the end of the current fiscal year. This contract was not competitively procured and was awarded as a sole-source 8(a) to an Alaskan Native Corp. under the authority of the Small Business Administration's 8(a) program. The Marine Corps Systems Command, Quantico, Virginia, is the contracting activity (M67854-18-D-7200).
Innovative Technologies International (NovaTech), Lynchburg, Virginia, was awarded a $14,494,358 fixed-price-with-economic-price-adjustment contract for the procurement of MK84 Mod 0 conical fin assembly. Bids were solicited via the Internet with three received. Work locations and funding will be determined with each order, with an estimated completion date of April 1, 2023. US Army Contracting Command, Rock Island Arsenal, Illinois, is the contracting activity (W52P1J-18-D-0048).
Sierra Nevada Corp., Hagerstown, Maryland, has been awarded a not-to-exceed $14,029,200 ceiling increase modification (P00010) to previously awarded undefinitized contract action FA8620-16-C-4003 for the Saudi King Air 350 program. This contract provides for the modification of two King Air 350 extended range aircraft with intelligence, surveillance, reconnaissance/synthetic aperture radar capability, one transportable ground station, one fixed ground station, and one mission system trainer. This modification brings the total cumulative face value of the contract to not-to-exceed $85,774,950. Work will be performed in Hagerstown, Maryland, and is expected to be complete by April 2020. This contract involves 100 percent foreign military sales to Saudi Arabia. Foreign military sales funds in the amount of $9,494,750 are being obligated at the time of award. Air Force Life Cycle Management Center, Wright-Patterson Air Force Base, Ohio, is the contracting activity.
CACI Technologies Inc., Chantilly, Virginia, has been awarded a $9,954,462 cost-plus-fixed-fee contract for software. This contract provides for enhancing several Air Force Research Laboratory technologies in the fields of mission thread analysis, advanced visualization, and manipulation of graph-type data. Work will be performed in Rome, New York, and is expected to be complete by April 5, 2021. This award is the result of a competitive acquisition and two offers were received. Fiscal 2018 research, development, test and evaluation funds in the amount of $650,000 are being obligated at the time of award. Air Force Research Laboratory, Rome, New York, is the contracting activity (FA8750-18-C-0073).
Sotera Defense Solutions Inc., Herndon, Virginia, was awarded a $7,284,383 cost-plus-fixed-fee contract for a research project under the Harnessing Autonomy for Countering Cyber-adversary Systems (HACCS) program. The HACCS program aims to develop technologies for accurately identifying malicious cyber-adversary infiltrated networks, generating reliable software exploits for large numbers of known (n-day) vulnerabilities, and creating effective autonomous software agents that can be inserted in the compromised networks via the n-day exploits to safely and reliably neutralize cyber-adversary software agents. Work will be performed in Herndon, Virginia, with an expected completion date of April 2022. Fiscal 2017 research, development, test and evaluation (RDT&E) funding in the amount of $117,000; and fiscal 2018 RDT&E funding in the amount of $135,000 are being obligated at time of award. This contract was a competitive acquisition under an open broad agency announcement and 30 offers were received. The Defense Advanced Research Projects Agency, Arlington, Virginia, is the contracting activity (HR001118C0058).