MQ-1 Predator Lost in NW Syria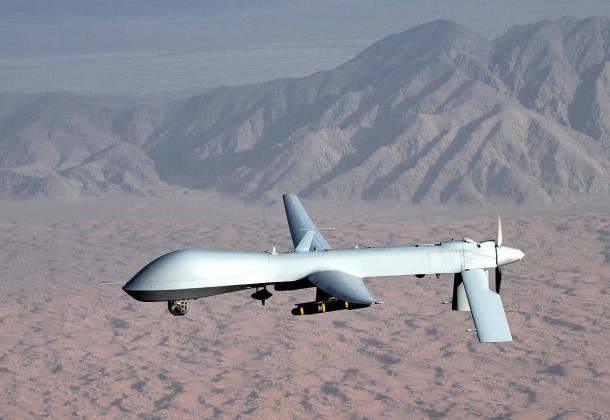 Morning Coffee is a robust blend of links to news around the internet concerning the Naval Air Station Patuxent River economic community. The opinions expressed here do not necessarily reflect those of the Leader's owners or staff.

The Pentagon confirmed a U.S. MQ-1 Predator unarmed remotely piloted aircraft was lost over northwest Syria, reports The Hill.
As Russia continues to flex military might around Ukraine, and farther, six NATO ships enter the Black Sea for scheduled maneuvers, Business Insider reports, and includes photos and a map.
The House Budget Committee looks to satisfy defense hawks by upping the Overseas Contingency Operations fund to reach DoD funding levels sought by House and Senate Armed Services committees, reports The Hill.
The Washington Post reports which companies receive the largest government subsidies. Boeing is number one. Businesses, mostly large corporations, have received $68 billion in federal grants and tax credits since 2000; states give some of the same corporations even more.
A Pew report finds Americans are mostly OK with US surveillance, says Government Exec.
NASA will announce June 10 the second round winners among five bidders seeking to deliver commercial cargo to the International Space Station. Aviation Week details the five space vehicles in competition. Meanwhile, in Brooklyn, an émigré Russian engineer and a US-born artist are making  fashionable space suits for the people soon to follow, reports Quartz. "I can pretty much assure you that there are going to be people bringing people with money to space, and they'll have to wear something," says Nicholas de Monchaux, an architect who wrote a history of the Apollo space suit.
The Potomac Piranhas Hackathon is April 23. Register for the workshop to rapidly develop and vet innovative solutions for a cleaner watershed. The hackathon will be hosted at the World Resources Institute, 10 G Street, NE, Washington, DC,  immediately adjacent to Washington Union Station, accessible by the Metro Red Line, VRE, and MARC, with ample paid parking in the Washington Union Station garage.
The highest level of oil supplies in 80 years led crude oil to hit its lowest price in six years, $43.46 a barrel, the lowest price since March 11, 2009, says The Hill.