Morning Coffee: F-35 Program Cost Projection Slashed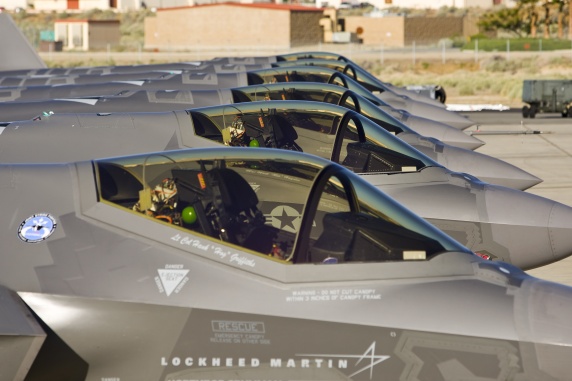 Morning Coffee is a robust blend of links to news around the internet concerning the Naval Air Station Patuxent River economic community. The opinions expressed here do not necessarily reflect those of the Leader's owners or staff.

The Government Accountability Office cut $11.5 billion from the F-35's acquisition costs "due solely to efficiencies found within the program as no decrease in quantities was reported," reports Breaking Defense. The GAO's annual "Assessment of Selected Weapons Report" stated, "Production efforts have improved as the production line continues to show efficiencies and quality metrics show positive trends." Lockheed's F-35 program still faces potential software and design changes, according to the report, which also said projected operations and maintenance costs of more than $1 trillion over the next decades may fall.
The Washington Post reports, Pentagon cybersecurity staff will triple from 1,800 by the end of 2014 to 6,000 by 2016. The DoD is recruiting outside professionals to apply and encouraging military personnel to train to  fight cyber threats to national security, according to DefSec Chuck Hagel.
House Republicans seek to push defense spending $483 billion above sequester levels over 10 years, reports The Hill. The funding increase would be offset by cuts to non-defense discretionary spending. The additional funding may allow the DoD to maintain an 11 carrier fleet and halt cuts to Army troop levels. The Pentagon  is delaying until 2016 major decisions such as retiring the USS George Washington early, in case Congress reverses sequester spending caps.
Blackberry received a boost March 27 when it was granted Full Operational Capacity for its BlackBerry 10 to run on Defense Department networks, according to C4ISR & Networks. BlackBerry is the first mobile provider to receive FOC, which can enable government BlackBerry 10 users  to securely access email, data, apps and other DoD network resources.
DefSec Chuck Hagel announced creation of a single Pentagon-level office to find the remains of fallen US service members from foreign battlefields, reports the Military Times. The directive will eliminate the existing command, reportedly plagued by mismanagement, waste and incompetence. The new office centralizes efforts to find 83,000 Americans still missing from WWII and in Korea and Vietnam. "You take care of the people who gave their lives to this country and you take care of their families, and that has been a critical component of who we are as Americans," Mr. Hagel said.
The Navy's newest research ship, the R/V Neil Armstrong, named for the first man to walk on the moon, was christened March 29 by family members, according to America's Navy. The vessel will begin service in January 2015 to conduct studies in the Atlantic, western Pacific and Indian oceans. Chief of Naval Research RADM Matthew Klunder said, "I can't think of a better name to go on the side of a ship designed for exploration and discovery."
The House Committee on Veteran Affairs and the media are calling for transparency from the Dept. of Veteran Affairs  after it denied a request to release the names of hospitals where veterans died because of delays in medical screenings, reports the Washington Times. CNN reported earlier this year that 19 veterans died as a result of delayed gastrointestinal cancer screenings, while another 63 were seriously injured but internal VA documents did not specify the names of the hospitals involved. Sen. Bill Nelson (D-Fla.) released a letter March 28 stating, "Veterans across this country have a right to know about their local VA facility's record of care. They cannot be adequately served if they do not fully understand their benefits and in some cases, are not fully informed about the care they need."
Congress splits on partisan lines about the Navy's proposed tobacco sales ban on ships and bases, according to the Washington Post. The ban is part of a push to safeguard the health of sailors and Marines but Rep. Duncan Hunter (R-Calif.) believes it is a distraction and the service should focus on "the threats of the future." Four Senate Democrats took a different position and wrote a letter to NavSec Ray Mabus stating, "The high rate of tobacco use by active-duty personnel is not only harmful to their health, but also costs the federal government significantly in the long term."
Progeny Systems Corp., Manassas, Va., is being awarded a $9,589,064 cost-plus-fixed-fee contract for engineering and technical services in support of the Navy's AN/UYQ-100 Undersea Warfare Decision Support System. This contract includes options which, if exercised, would bring the cumulative value of this contract to $55,567,452. Work will be performed in Manassas, Va. (67 percent); Patuxent River, Md. (12 percent); Gig Harbor, Wash. (7 percent); Middletown, R.I. (6 percent); Norfolk, Va. (4 percent); and Pearl Harbor, Hawaii (4 percent), and is expected to be completed by March 2015. Fiscal 2013 and 2014 research, development, test and evaluation; fiscal 2014 other procurement, Navy and fiscal 2014 operations and maintenance, Navy funding in the amount of $6,877,411 will be obligated at time of award. Contract funds in the amount of $183,000 will expire at the end of the current fiscal year. This contract was not competitively procured in accordance with the Federal Acquisition Regulation 6.302-5. This contract is being awarded as a Phase III Small Business Innovative Research effort, under the Small Business Innovative Development Act of 1982. The Naval Sea Systems Command, Washington, D.C., is the contracting activity (N00024-14-C-5209).