Moll Dyer Day Returns for 2nd Year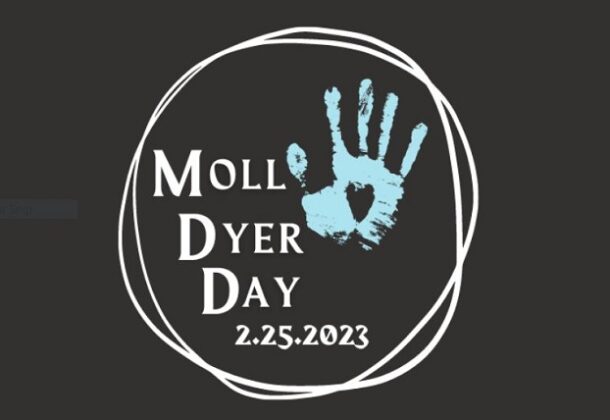 Plans are underway for this year's Moll Dyer Day Weekend to be held February 24-26 in Leonardtown.
Here are some tentative plans:
Friday, February 24, 2023
6pm — Spirits & Witches at Tudor Hall for adults only. Reception $50 per person. Reservations required here.
Local history enthusiast and paranormal investigator Patrick Burke will offer evidence and fact as "History with a Twist;" and Baltimore-based author, speaker, and magical thinker Michael M. Hughes will present "The History and Reality of Witchcraft in America."
Tobacco Barn Distillery's Witches Brew along with non-alcoholic cider and light refreshments will be served. Proceeds benefit the St. Mary's County Historical Society.
Saturday, February 25, 2023
11am — Opening ceremony at Tudor Hall for all ages. This event is free and open to the public, and includes music from David Norris, a performance from St. Mary's Ryken High School Chorus, Moll Dyer herself, and friends.​
2pm — Moll Dyer in Music & Dance at The Rex Theatre. St. Mary's Ryken High School Dance, musicians from the Cosmic Symphony. $25 per person. Reservations required here.
This second annual Moll Dyer Day event is a collaboration between the St. Mary's County Historical Society, the Leonardtown commissioners, Visit St. Mary's MD, and the Leonardtown Business Association.
Organizers said the first year was a resounding success, and the exciting plans for this year include a reception at Tudor Hall, an opening ceremony at the Moll Dyer Rock, a family-friendly Spirit Hunt through Leonardtown, a paranormal investigation, and many other special offers and activities hosted by town businesses.
In 2021, Leonardtown Mayor Dan Burris proclaimed February 26 as Moll Dyer Day, to be commemorated annually on the last Saturday in February, in a ceremony that was held at Tudor Hall, the home of the famed rock that bears her now faded handprint.
Many know the legend of Moll Dyer, but it's not as widely known that in the late 1600s, Dyer was a real woman who lived just south of what is now Leonardtown. She is believed to have been a healer who often aided the community.
However, when an epidemic of influenza arose during the winter of 1697, the town inhabitants looked to lay blame and named her as its cause. Accused of witchcraft, Dyer was set upon by a mob fearful of the sickness. When they set fire to her small cabin, Dyer escaped into the surrounding woods on a bitterly cold night in February 1698. Her body was found days later by a young boy looking for lost livestock. She was found with one hand frozen to a large rock and the other outstretched to the sky. Legend has it that Moll put a curse on the land and on the rock. It's rumored that anyone who touches the rock may become dizzy or even fall ill.
The rock was moved from the Old Jail Museum in 2021 where it sat for almost 50 years to Tudor Hall, the home of the St. Mary's County Historical Society, where the organization oversees the preservation of this piece of Southern Maryland history. The Historical Society has helped build a platform and protective covering to shelter the rock from the elements. Since its move, the rock has seen a steady flow of visitors who often leave trinkets and small gifts for Moll.
Peter LaPorte, executive director for the St. Mary's County Historical Society, noted the significance of the event and why this story continues to resonate to this day.
"The Legend of Moll Dyer and the rock that bears her name are known well beyond Leonardtown and St. Mary's County," said Mr. LaPorte. "We're happy that she and her legend convey across the 325 years since her death an important message for us all. That is, to be kind."
The enduring message from The Legend of Moll Dyer, "Be Kind" has been chosen as the continuing theme of this year's event.
The St. Mary's County Historical Society is the repository of a unique collection of Maryland memorabilia and museum pieces displayed on the first floor of Tudor Hall and in the Old Jail Museum at 41625 Courthouse Drive. The 18th-century Tudor Hall also serves as headquarters of the society and houses the Historical Society's Research Center.
To learn more about the St. Mary's Historical Society, visit its Leader member page.