First Missionary Baptist Dances and Praises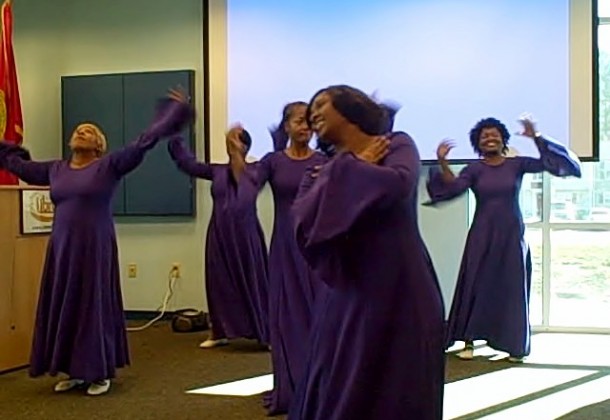 At the United Committee for Afro-American Contributions' annual meeting President Nathaniel Scroggins slipped a surprise piece of entertainment into the proceedings in a remembrance of Martin Luther King.
Members of the First Missionary Baptist Church perform.
[youtube=http://www.youtube.com/watch?v=khvRW7urVoY]
The UCAC presents Lexington Park's annual Juneteenth celebration at Freedom Park. Juneteenth will be held Saturday, June 15, 2013, Noon – 8:00 pm. The deadline for sponsorship of the activity is May 25th, 2013
Sponsor donations finance Juneteenth events and support the mission of the Unified Committee for Afro-American Contributions—a 501 (C) (3) non-profit.
For further information contact Nat Scroggins: [email protected]
Sponsorship levels range from Platinum at $3000 which proves the sponsor with:
• Full page color ad with logo in the souvenir booklet (back cover – first come, first served)
• Logo (as sponsor) on all press materials and advertisements
• 2′ x 8′ banner with company logo on site during the event
• Logo (as sponsor) on Juneteenth web page
• Recognition plaque for company headquarters or an engraved brick in the Freedom Park walkway
• Verbal recognition by the emcee
Gold Sponsorship – $1,000; Silver Sponsorship – $500; Bronze Sponsorship – $250. Sponsorships are also available at less than $250 and donations of
• $50 or more will entitle the donor to space in the souvenir booklet.