Military Aviation Crashes See Big Spike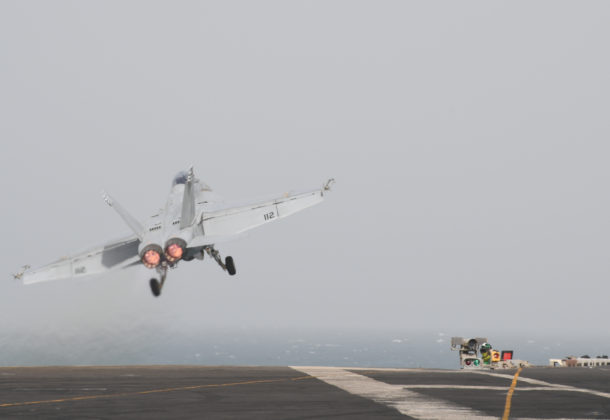 Morning Coffee is a robust blend of links to news around the internet concerning the Naval Air Station Patuxent River

economic community. The opinions expressed here do not reflect opinions of the Leader's owners or staff.
US Navy aviation mishaps have increased 82 percent in the past five years, reports Military Times, the biggest spike in accidents among all four services. Mishaps involving the F/A-18 E/F Super Hornet have jumped 108 percent over the same time period. Marine Corps aviation accidents have jumped 80 percent over the past five years, reports Military Times. From fiscal years 2013 through 2017, the total number of Marine Corps aviation accidents rose from 56 to 101 per year.
Among the latest crashes, two soldiers were killed in a training flight of an AH-64E Apache attack helicopter at Fort Campbell, Kentucky, on Friday, reports ABC News. The two deaths in the crash Friday night brings to seven the number of service members who died last week in three military aviation crashes in the US. Army Times identifies the soldiers killed April 6. They are Chief Warrant Officer 3 Ryan Connolly and Warrant Officer James Casadona of the 101st Combat Aviation Brigade, 101st Airborne Division.
Robert Work, former US deputy secretary of defense and a former undersecretary of the Navy, discusses with Aerospace America how the Navy's MQ-25 drone program came about.
The Trump administration's review of America's missile defense capabilities is expected to be released in May, reports Defense News.
In an attempt to solve the service's long-standing pilot retention problem, the Air Force is considering whether it should reinstate warrant officers for the first time in six decades. The AF's personnel chief is already thinking ahead, contemplating whether they could include aviators. A report is expected to be finished in April and provided to Congress.
Alaska emergency responders and the US Coast Guard took part in a training exercise last week to test their ability to work together in the event of a large-scale threat, reports Alaska Public Radio.
Taiwan says cyber attacks from China are taking a toll on its digital infrastructure, reports Asia Times, with government computer systems now subjected to as many as 40 million incidents each month.
Navy Times reports that a panel of four experts from military, finance, cyber, and strategy laid out this week frightening scenarios at the New America Future of War conference: not of far-off possibilities but of what's happening now. Data breaches, cyber probes, and power shutdowns in other countries haven't been given the attention they deserve. And the enemy is watching that lack of response, the article states.
Former JP Morgan executive Dana Deasy will take on the position of chief information officer at DoD, reports Defense Systems. "In his position, [Deasy] will be responsible for how we manage and use information, communications and cybersecurity," a DoD spokesperson told reporters.
NASA and Lockheed Martin are developing a new, experimental supersonic aircraft that could make it possible to fly from New York City to London in just under three hours, reports Fox News. The Low Boom Flight Demonstrator has spurred hopes that supersonic travel will once again be available to commercial passengers.
Contracts:
Leidos Inc., S&R and Intelligence Systems Services, Reston, Virginia, has been awarded a $13,870,939 ceiling cost-reimbursement contract for compact semiconductor mid- and long-wave opto-electronics research (COSMO). This contract provides for the advance of semiconductor lasers suitable for current and future infrared countermeasure applications. Work will be performed at Kirtland Air Force Base, New Mexico, and is expected to be complete by April 2023. This award is the result of a competitive acquisition and two offers were received. Fiscal year 2018 research and development funds in the amount of $500,000 are being obligated at the time of award. Air Force Research Laboratory Detachment 8, Kirtland Air Force Base, New Mexico, is the contracting activity (FA9451-18-C-0014).
International Systems Management Corp., Greenbelt, Maryland, is being awarded a $7,078,371 cost-plus-fixed-fee contract for engineering support services to conduct feasibility studies, program planning and scheduling support, and technical services in support of the Australia SEA 4000 and SEA 5000 programs. This contract includes options which, if exercised, would bring the cumulative value of this contract to $12,040,531. This contract involves Foreign Military Sales to the commonwealth of Australia. Work will be performed in Washington, DC (92 percent); and Mobile, Alabama (8 percent), and is expected to be completed by April 2021. If all options are exercised, work will continue through April 2023. Foreign Military Sales funding in the amount of $1,228,050 will be obligated at the time of award and not expire at the end of the current fiscal year. This contract was not competitively procured pursuant to 10 US Code 2304(c)(4): international agreement. The Naval Sea Systems Command, Washington, District of Columbia, is the contracting activity (N00024-18-C-5106).
Design and Production Inc., Lorton, Virginia, was awarded a $16,000,000 modification (P00001) to contract W912WJ-16-D-0014 for exhibit fabrication and installation for the National Museum of the United States Army, Fort Belvoir, Virginia. Work locations and funding will be determined with each order, with an estimated completion date of Dec. 31, 2022. US.Army Corps of Engineers, Concord, Massachusetts, is the contracting activity.