MD Industry Partnerships Catalyze Innovation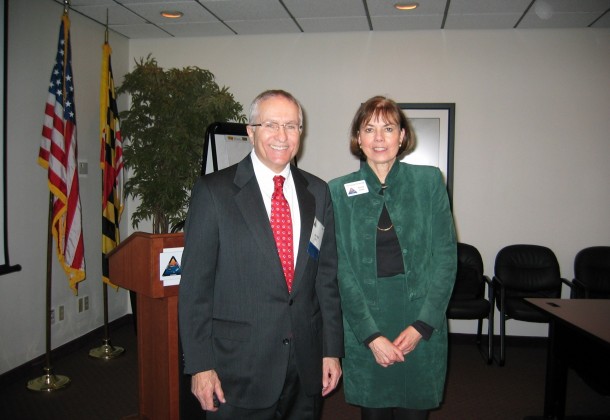 Posted by The Patuxent Partnership
Pax III
Big ideas in technology innovation are being primed for launch, thanks to the University System of Maryland's Maryland Industrial Partnerships (MIPS), and its collaboration with I-Corps, an academic-industrial partnership program run by a consortium of universities.
MIPS has fostered the start of companies creating more than 5,600 jobs since its founding in 1987. The companies have led to the addition of 15,000 total jobs to the Maryland work force.
Pax Partnership brought MIPS Director Joe Naft to Lexington Park last week. The briefing and introduction of Mr. Taft to the Pax River economy supports TPP's initiative to spur technological innovation in Southern Maryland.
MIPS is a program of the Maryland Technical Enterprise Institute (M-Tech), run out of the Clark School of Engineering at the University of Maryland, College Park. M-Tech's goal is to educate the next generation of tech entrepreneurs and to create successful tech ventures by connecting Maryland companies with university resources – faculty, graduate students, and facilities.
The economic value of these partnerships to start-up companies and to established firms who want to add additional dimensions to their tech portfolios cannot be overstated, and evidenced by the rapt attention of dozens of TPP attendees.
Mr. Naft called MIPS a "venture accelerator" funding research and development projects on campuses across Maryland. Delegate John Bohanan recently added St. Mary's College of Maryland and Morgan State to the full network of participating campuses of the University System of Maryland.
R&D projects are selected from applications submitted by Maryland companies seeking additional expertise to help them move an innovation from the lab environment to commerce. MIPS does this by matching faculty and advanced grad students to companies whose innovations have the most promise for commercialization. Since its inception, MIPS has handled nearly 2,000 applications, leading to enterprises involving 514 companies and 393 faculty.
Depending on their size and length of time in business, companies approved for the MIPS program pay anywhere from 10 percent  to 50 percent of the costs of the partnership. MIPS reviews applications twice a year, with proposals due May 1 and October 15. Mr. Naft put the "win" rate for applications at 50 percent.
To be eligible, companies must have a facility in Maryland. "And not just a mailbox," said Mr. Naft, "a warm body." And companies must demonstrate that their innovations will create jobs in Maryland.
If they're selected, companies also will have access to legal advice to protect their intellectual property; entrepreneur office hours, staffed by people with deep expertise in startups; a tech startup boot camp; and business model competitions.
The list of projects that have attained success through MIPS range from biotechnology, nanotechnology, and clean energy to robotics, information technology and all types of engineering.
Among them are:
MedImmune's Synagis respiratory vaccine for infants and toddlers
Hughes Communications' DIRECWAY satellite internet technology (now HughesNet)
Martek Biosciences' nutritional oils for infant formula and other foods
FlexEl's flexible battery, being adapted for multiple uses, including e-cigarettes
Two wildly successful alumni of the MIPS program are CryoSpray Ablation System for Barrett's Esophagus, a pre-cancerous condition, and Well Doc, a smartphone app that improves patient diabetes management. In both cases, MIPS paid for clinical trials neither entrepreneur could afford to cover on their own. The clinical trial results were so positive that production took off.
"We are technology agnostic," Mr. Naft said, emphasizing that MIPS and I-Corps welcome inquiries from innovators in any and all fields. "We don't fund restaurants and dry cleaners, but we'll back technology that will improve food preparation and make the dry cleaning chemicals work more effectively." MIPS also has seed money for projects that will mitigate pollution in the Chesapeake Bay.
"One area I expect we'll see more activity in is robotics, including UAVs and intelligent systems," Mr. Naft said.
More information is available from MIPS and from Mtech, MIPS' web site for proposals. Mr. Naft says the tracking site will open for the next cycle of proposals between late March and early April.
Details are also available about I-Corps, which offers hands-on training in moving from innovation to commercialization. It emphasizes conversations with marketplace players among its methods for achieving a product-market fit and creating a realistic business model.