Marine Sims Start Talking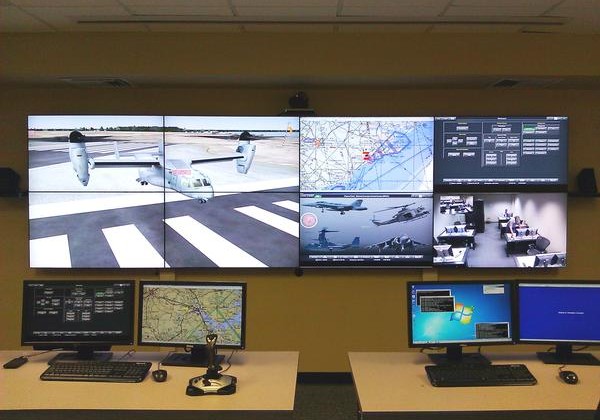 Call it the "Marine Corps Matrix."
The acquisitions division of the Naval Air Systems Command, headquartered at Naval Air Station Patuxent River, announced Friday that two new advances in aircraft simulator networking is set to change how Navy and Marine aviators train for sub hunting and other missions.
For the first time, a P-3 Orion simulator connected virtually to an SH-60B Seahawk trainer during a "peer to peer connectivity" trial July 1 at Marine Corps Base Hawaii, Kaneohe Bay, according to the Navy. And developers of the Marine Corps' Aviation Distributed Virtual Training Environment recently networked simulator groups at Marine Corps Air Station Cherry Point and MCAS New River.
In Hawaii, developers were able to link the Orion's Tactical Operational Readiness Trainer (TORT) with a Sea Hawk Tactical Operational Flight Trainer (TOFT) in a synthetic environment. The Navy said this "peer-to-peer" connection eliminates the need for a third party to facilitate the connection or act as a conduit between TORT and TOFT.
"Now that they have established an initial connection, these platforms can build the relationship into daily training requirements," said Capt. John Feeney, Naval Aviation Training Systems (PMA-205) program manager, in a prepared statement.
PMA-205 is responsible for the development and life-cycle management of both simulators, as well as the creation of the synthetic environment in which the trainers participated.
During test and evaluation, P-3 aircrews communicated via the TORT while SH-60B aviators operated their TOFT. Through the TORT, the P-3 crew observed the SH-60B pilots maneuver the helicopter, as well as deploy buoys and launch multiple missiles in the synthetic environment. The P-3 operators were also able to check acoustic and radar signals during the training session, according to Feeney.
"Both the P-3 and the SH-60B aircraft are designed for maritime patrol and reconnaissance missions, specifically anti-submarine warfare (ASW)," said Lt. Richard Holt, Commander of Patrol and Reconnaissance Wing 2, Weapon Tactics Unit, the training facilities officer in charge. "Since the two platforms continuously work together when deployed, it was only logical to integrate them now for coordinated ASW synthetic training."
Within the next six months, the TORT and TOFT will be used in a simulated training event with a single Navy ship. Once both systems have successfully completed training with one ship, they will participate in a full-scale Fleet Synthetic Training (FST) event involving multiple ships, submarines and aircraft FST events provide real world mission rehearsal in a synthetic environment.
Meanwhile, the first phase of testing for the Marine Corps' Aviation Distributed Virtual Training Environment ( ADVTE), has been successful, the Navy announced.
"The ADVTE is a system of local and wide area networks that will ultimately link together the majority of Marine aviation simulators located at Marine Corps Aviation Training System Sites, in the continental United States," said Kent Campbell, PMA-205 ADVTE program lead, in a prepared statement. "The networks allow aviators operating simulators of many Marine Corps platforms to 'fly' togetherregardless of geographical locationto create tactical scenarios that support training and increase readiness and efficiency. … Until now, nothing like this existed for the Marine Corps. There was no networked training capability that allowed this type of command, control, and planning for virtual training exercises."
Cherry Point and New River, both in North Carolina, were the first locations connected by the ADVTE under the first phase of the program.
Feeney said the program "will free up Marine Corps aircraft for operations while shifting more training to simulators to augment combat mission readiness."
Now that the first phase connection has been successfully implemented and tested, the team is working to implement phases two and three, which expand the networks to training sites at MCAS Miramar and MCAS Camp Pendleton, Calif., followed by MCAS Beaufort, N.C. and MCAS Yuma, Ariz.
The network linking all the Marine Aviation Training Support Squadrons within the continental United States is scheduled to be complete in December of 2012.
Once fully implemented, geographically diverse Marines in simulators representing a wide array of platforms will be able to come together for mission rehearsal, such as air-to-air and air-to-ground combat, as well as joint exercises, in a safe, virtual environment, Campbell said.
Each MATSS will have a mission planning center, known as the Network Exercise Control Center, capable of developing, planning, rehearsing, executing, monitoring, controlling and reviewing scenario-based training sessions.
Source: AIR-1.0 Public Affairs