LSM Class Visits MedStar St. Mary's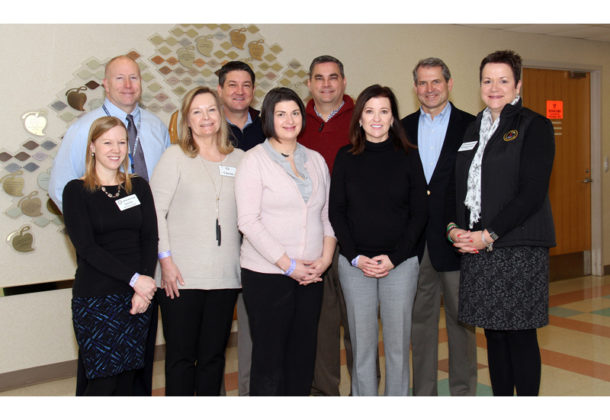 Members of the current class of Leadership Southern Maryland visited MedStar St. Mary's Hospital on Jan. 18, 2018. The LSM class members are part of an educational leadership program for executives in the region.
Nine members of the LSM Class of 2018 were greeted with a presentation by Stephen Michaels, MD, chief operating and chief medical officer at MedStar St. Mary's. Next, the LSM students were given a tour of the Leonardtown campus. Stops included the Emergency Department, Interventional Radiology, the MedStar St. Mary's Hospital Wound Healing Center, and "Reflections," the hospital's new history room.
Amy Magyar, CRN, VA-BC, spoke to the group and demonstrated the vast capabilities of the Interventional Radiology department, including a discussion of kyphoplasty: a minimally invasive procedure that is used to treat spinal compression fractures. With just a small hole, kyphoplasty injects a special kind of cement into the vertebrae, working to alleviate back pain.
In the Emergency Department, Daniel Geary, MD, chief of the department , and Dawn Yeitrakis, MS, RN, CEN, the department's director, demonstrated Telestroke, which is a virtual connection to stroke experts at MedStar Washington Hospital Center. Use of the electronic communication allows local emergency clinicians to immediately consult with specialists in real time through a secure video link between the two hospitals. Stroke patients can be stabilized and treated more quickly in Leonardtown with this specialty care, which leads to more positive patient outcomes.
While the LSM students were at the hospital's Wound Healing Center, Richard Greengold, MD, medical director, and Lisa Nelson, RN, MHA, CWCN, clinical program director, talked to them about hyperbaric oxygen therapy — one of a variety of advanced treatments offered in Leonardtown. Patients are able to breathe pure oxygen while they're inside a pressurized chamber, stimulating the body's natural healing capabilities. The Wound Healing Center recently earned the Center of Excellence Award from Healogics, the nation's largest provider of advanced wound care services.
The LSM members' Jan. 18 tour ended in "Reflections," the first-floor history room, at which they learned more about the hospital's role in the community since its founding in 1912.
For more information and one-click access to a full list of resources available at MedStar St. Mary's Hospital, visit their Leader Page.