Living the Dream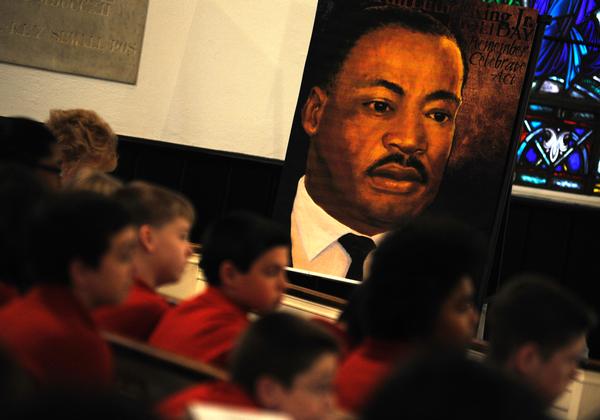 Keynote speaker Cmdr. David R. Brown challenged approximately 80 attendees at the annual Martin Luther King Jr. service of remembrance to "live the dream."
Surrounded by posters listing some of King's famous quotations, Brown, the assistant deputy chaplain of the Marine Corps, told listeners they are living King's dream today. The annual event was held at St. Nicholas Chapel at Naval Air Station Patuxent River Wednesday.
"Dreams often come when the mind and heart are restless," he said, noting that King voiced his dream at a time when America was "living in a nightmare." Today, despite continued struggles with crime, drug abuse and rising college costs, there are fewer instances of intolerance and prejudice, he said.
"[King's] faith and courage continue to inspire us," said NAVAIR Comptroller Jerry Short in his welcoming remarks.
Brown listed three tenets to help live the dream. The first is to "have an attitude of gratitude," listening to and learning from the personal stories of the previous generation and never forgetting those roots that have borne the "sweet fruits of freedom" today.
The second is to "exploit every opportunity to excel and bring others with us." Americans are master opportunists, Brown said, who manage to rise up and overcome in even the worst circumstances. He cited 1968, a year marred by the Tet Offensive during the Vietnam War, the assassinations of King and Robert F. Kennedy, and excessive rioting at the Democratic National Convention  a year that ended with the entire world watching as the first American astronauts orbited the moon.
"Everything doesn't have to be perfect for you to be a success," he said.
Finally, Brown encouraged attendees to "honor the dreamer and the dream" by finding a focus to their lives to, ultimately, fulfill their own dreams and goals.
The event, hosted by the Pax River Chaplain's Office, in conjunction with the Naval Air Warfare Center Aircraft Division Equal Employment Opportunity Office, also featured performances by Esperanza Middle School's festival chorus.
Source: NAVAIR Headquarters