Lex Park to Lose USDA Home Loan Eligibility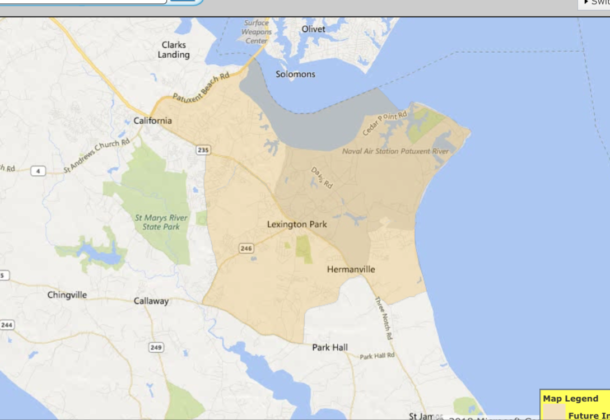 New maps due out from the USDA rural home loan program will remove a huge swath of Lexington Park from eligibility. As of June 4, 2018, an expanse of property below Chancellor's Run and Great Mills roads, sweeping southeast all the way to Hermanville Road, will no longer qualify to receive the advantageous home loans. In addition, neighborhoods beyond Hermanville immediately south of the base will be excluded as well.
As of June 4, 2018, all of these areas lose access to a USDA home loan, the mortgage lending program serving qualifying buyers across rural America.
Qualifying buyers can finance 100 percent of the cost of homes in the designated rural areas, and in some cases include closing costs, explains Barry Friedman with Primary Residential Mortgage Inc. in California, MD. And the vast majority of land in St. Mary's County is designated rural and will retain its rural designation and thus its eligibility for USDA mortgages in the June 4, 2018, maps.
However, while the program out of the US Department of Agriculture still includes top neighborhoods close to the Patuxent River Naval Air Station, new demographics will push some of these communities out of designated rural districts. Until the June 4, 2018, update to the eligibility maps, homes in these neighborhoods continue to qualify for  USDA Rural Development mortgages. While the pool of eligible housing remains at its peak and the interest rates remain low, Mr. Friedman encourages anyone in the market for a new home, or even just thinking about it, to speak with a PRMI lender.
The eligibility maps still include many new-home communities surrounding the Patuxent River Naval Air Station, including Wildewood. Still, Mr. Friedman emphasizes, this will be the last time to apply for a USDA loan in an array of choice neighborhoods. "We've got a gift right now," he said of the early announcement of the date the eligibility maps will change. "We've got a gift until June 4th."
Potential home buyers who might think they don't have the cash or credit rating could be eligible. Visit the USDA Rural Development site for income eligibility and property eligibility guidance. The program requires you work through an approved lender like Primary Residential Mortgage Inc. A PRMI lender is able to confirm your qualifications, eligibility, and submit your application to the program.
Primary Residential Mortgage lenders are familiar with the Rural Loan Program and see it is a real go-to for income qualified home buyers. PRMI lenders will be able to confirm your qualifications for one of the 100 percent, USDA home loans, for a 30-year term at today's low interest rates.
PRMI lenders know Southern Maryland and understand the USDA standards of safe and sanitary housing for their borrowers. The Southern Maryland Mortgage team averages about  20 years experience apiece in the home loan business, most of them with the majority or their entire careers in Southern Maryland. The office is recognized as having a depth of experience with specialized mortgages and a breadth of knowledge of this region. The combination has enabled them to bring a large toolbox of opportunities to use including USDA home loans in Southern Maryland. They are committed to finding and fitting the best loan to their clients' homes.
Additional Guaranteed Loan Features may include
No down payment required.
Closing costs may be included in the loan, or paid by seller.
Non-traditional credit histories may be accepted.
Fixed 30-year interest rates apply.
There is no maximum purchase price.
Eligible houses include existing homes, new construction, planned unit developments (PUDs), modular homes, and eligible condominiums.
Not limited to first-time homebuyers.
To find out if you and your dream property qualify, contact Primary Residential Mortgage Inc. at 23131 Three Notch Road, Suite 201, California, MD 20619; 301-737-0001.