Lawmakers Propose $700 Billion Defense Bill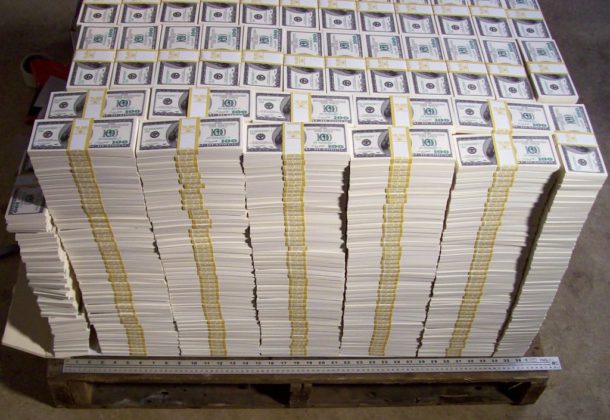 Morning Coffee is a robust blend of links to news around the Internet concerning the Naval Air Station Patuxent River

economic community. The opinions expressed here do not reflect opinions of the Leader's owners or staff.
US lawmakers aim to restock a depleted military, House and Senate negotiators agreed Wednesday on an annual FY18 defense policy bill authorizing $700 billion for the Pentagon, a dramatic increase over the amount President Donald Trump sought, reports CBS News. Trump's bill sought $603 billion plus $65 billion for overseas funds.
The cost of US wars overseas are approaching $6 trillion, reports Military Times, citing a study out of the Brown University's Watson Institute for International and Public Affairs, which shows a steadily growing tally for the 16 years of war.
Trump says he believes "it makes sense for North Korea to come to the table and make a deal for the people of North Korea and people of the world," after meeting with South Korean President Moon Jae-in, reports Nikkei.com.  During the same press conference, Trump called on China and Russia to help defuse the current crisis. During his visit to South Korea, Trump visited US Army Garrison Humphreys where 26,000 US service members, their families, and civilians hold Saturday night tailgate parties before high school football games similar to the Saturday nights in their US hometowns. "It's an honor to be with you,"  Trump told the troops at Humphreys, later saying there had been progress on resolving the North Korea nuclear crisis and called on Pyongyang to "make a deal."
Shoddy seamanship is blamed for  USS Lake Champlain's May 9, 2017, collision with a fishing vessel,  reports Navy Times. "While changing course to maintain relative position with the escorted aircraft carrier, the USS Lake Champlain turned in front of the fishing vessel without realizing the risk of collision," the review states. "The Bridge watchteam was slow to react and executed improper and untimely maneuvers in an attempt to avoid collision." The May 9, 2017, collision caused no injuries, unlike the disasters this summer involving the destroyers Fitzgerald and John S. McCain, which killed 17 sailors, nor did it fail in a high-profile setting, like the cruiser Antietam's January grounding in Tokyo Bay.
Cash and other incentives aren't enough to fix the Air Force's critical pilot shortage, reports Air Force Times. Brig. Gen. Mike Koscheski, assigned to fix the problem, says, "It's going to take a while to get in place what we need to start producing more pilots. One of the biggest things that we need is stable and predictable budgets." The Air Force wants to grow its pilot production by about 25 percent.
Sweden selected the Raytheon-manufactured Patriot for its new air and missile defense system following a competition that pitted it against French consortium Eurosam's SAMP/T, reports Defense News. The contract is estimated to be valued at roughly $1.2 billion.
Lockheed's fiber laser weapon for fighter jets will be out in 2021, reports Defense News. The laser will be integrated with two other main subsystems: a pod that will power and cool the laser and a beam-control system, which will direct the laser onto the target.
Customers are pouring into St. Inie's Coffee at the Shangri-La Drive and Willows Road intersection in Lexington Park, MD, reports somdnews.com. St. Inie's Coffee offers 17 varieties of medium and dark roast coffees, sold by the bag or by the cup. Customers also can purchase teas, baked food items, and hand-crafted ceramic mugs.
Contracts:
Lockheed Martin Corp., Rotary Mission Systems, Moorestown, New Jersey, is being awarded a $60,196,236 cost-plus-fixed-fee modification to a previously awarded contract (N00024-14-C-5104) to exercise options for ship integration and test of the AEGIS weapon system (AWS) for AWS baselines through Advanced Capability Build 12.  Work will be performed in Camden, New Jersey (35 percent); Norfolk, Virginia (19 percent); Pascagoula, Mississippi (12 percent); Moorestown, New Jersey (10 percent); San Diego, California (9 percent); Bath, Maine (8 percent); Deveselu, Romania (3 percent); and various places below one percent (4 percent), and is expected to be completed by November 2018. Fiscal 2012 and 2013 shipbuilding and conversion (Navy); fiscal 2017 and 2018 other procurement (Navy); and fiscal 2018 operations and maintenance (Navy) funding, in the amount of $16,886,684 will be obligated at the time of award. Funds in the amount of $3,866,193 will expire at the end of the current fiscal year. The Naval Sea Systems Command, Washington, District of Columbia, is the contracting activity.