Is Autonomy the New Cyber?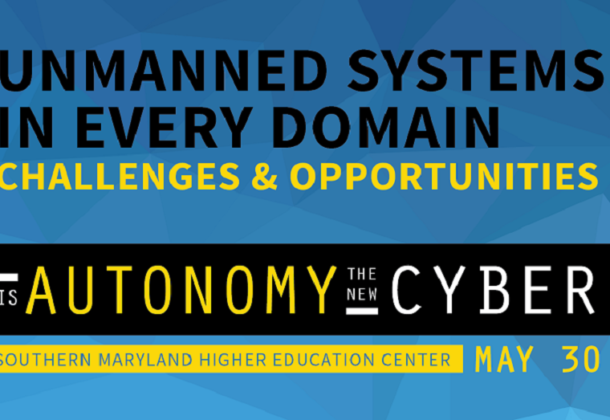 Join The Patuxent Partnership on Wednesday, May 30, 2018, for a program titled "Unmanned Systems in Every Domain: Is Autonomy the New Cyber?" Three separate panels will offer expert advice on whether autonomous programs will be replacing cyber as the newest innovation in technology and defense.
The event, which will be held at the Southern Maryland Higher Education Center, will start at 8 am with a welcome by Bonnie Green, executive director of The Patuxent Partnership. Opening remarks will begin at 8:10 am, by RADM Mark Darrah. The morning keynote will be given by Arthur Hinaman, Manager, Technical Support Branch, AUS-420, FAA.
Panel 1 will begin at 9:15 am, with the title "Strategic Navy/Marine Autonomous Capabilities."
Moderator: Pete Wolt, ADPEO (U&W)
Mr. Robert Kimble, SES, Deputy Program Executive Officer for Unmanned Aviation PEO (U&W)
Dr. Brian McKeon, Head; Undersea Warfare Weapons, Vehicles and Defensive Systems Department;Naval Undersea Warfare Center Division Newport
Mr. Scott Sampson, Unmanned Surface Vehicle Senior Craft Design Manager, NSWC Carderock
From 10:30 to 10:45 a.m. there will be a break.
At 10:45 pm, Panel 2 will begin, titled "Leveraging Autonomous Capabilities for Warfighter Combat Superiority."
Moderator: Maj. Gen. Robert Newman Jr., USAF retired
Mr. Carmine Borrelli, Director, Unmanned Ariel & Ground Systems, HQMC
Capt. Jeffrey Dodge, Program Manager, Multi-Mission Tactical Unmanned Aerial Systems, PMA 266
LTC Mark Scherbring, US Army, TRADOC, ARCIC
Lunch and networking will be noon to 1 pm
At 1 pm, "Evolving Capabilities & Approaches to Support an Evolving UAS Community" with Bruce Underwood, Deputy Director, Suborbital & Special Orbital Projects Directorate, NASA/GSFC/Wallops Flight Facility
At 1:30 pm, Panel 3 will begin, titled "Real Life Experiences in the Small UAV Market."
Moderator: Michael Van Dusen, Campus Director-Pax River, Embry Riddle Aeronautical University.
Mr. Peter Bale, CEO, Sentinel Robotic Solutions LLC
RADM (retired) Tim Heely, CEO, Vanilla Aircraft LLC
Mr. Anthony Pucciarella, Director of Operations, UMD UAS Test Site
Mr. Dave Seagle, BAMS-D Program Lead
There will be a coffee break from 2:45 to 3 pm
From 3 to 3:30 pm, Research Initiatives in Collaborative Autonomy with Dr. Don Davis, Division Chief for Robotics and Autonomous Systems, GTRI, Aerospace, Transportation & Advanced Systems Laboratory.
Matt Scassero of the University of Maryland UAS Test Site will speak from 3:30 to 3:50 pm. Closing remarks will be given from 3:40 to 4 pm.
There will be a UMD UAS Test Site Demo by Scassero at the UAS site at 44181 Airport Road from 4:10 to 4:25 pm.
A reception will follow at Techport Incubator at 44185 Airport Road.
Admission to the event is $75, $125 for non-members. Click here to register.
For information, call Jen Brown, programs and membership director, at 240-317-6018, or by email at [email protected]. Information is available on The Patuxent Partnership website.
Sponsors for the event are Naval Systems Inc. and St. Mary's County Department of Economic Development. Exhibitors will be Adams Communications & Engineering Technology Inc., Embry-Riddle Aeronautical University, SURVICE Engineering Co., UMBC Training Centers, NAWCAD, Indian Head EOD Technology Division, Atlantic Test Ranges, Integrated Battlespace Simulation & Test, and Unmanned Aircraft Systems Test Directorate.
About The Patuxent Partnership
TPP fosters collaboration and the sharing of knowledge and expertise across a diverse network that includes government, industry, and academia. TPP also supports STEM education and workforce development within the local community including hosting programs of interest to NAVAIR, NAWCAD, and the broader DoD community.
To learn more about The Patuxent Partnership and its programs, visit its Leader member page.