International Beverage Re-Opens After SUV Extricated
For a moment, it must have been a temptation for Paul Choporis, owner of International Beverage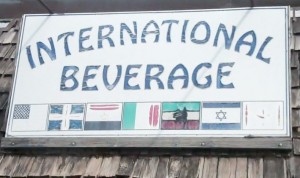 on Great Mills Road in Lexington Park, to take the call early Saturday morning as a joke. A vehicle in the front of his store? Inside his store?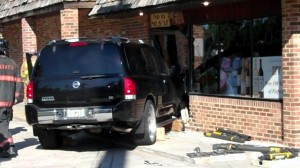 Mr. Choporis had attended a big celebration the night before, a surprise and landmark birthday party for John Blazer, founder of Blazer Enterprises. A phone call from another of the merrymakers delivered the news. An SUV had jumped the curb heading south and fallen down the steep incline and through International Beverage's front door.
Within an hour, Mr. Choporis said, John Blazer had called out his construction crew, who shored and secured the building and, within days, had it ready to reopen.  Attending to the accident were members  of Bay District Volunteer Fire Department, Bay District Volunteer Rescue Squad, St. Mary's County Sheriff's Department and Patuxent River firefighters.
By Tuesday Mr. Choporis was open for business with a temporary, but workable, door. Ron Armsworthy of A&M Glass Company and Home Improvements was taking measurements to return the glass to the store front. The huge refrigerator next to the front door was pushed back into place. The SUV had shoved it into the middle of the shop.