Hypoxia Episodes Continue to Haunt Fighter Jets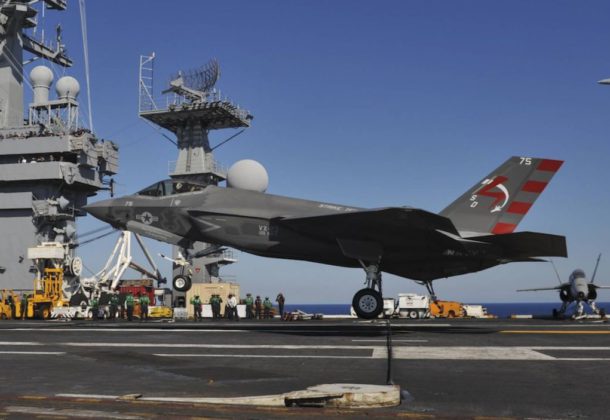 Morning Coffee is a robust blend of links to news around the Internet concerning the Naval Air Station Patuxent River

economic community. The opinions expressed here do not reflect opinions of the Leader's owners or staff.
F-35A pilots report five more hypoxia-like episodes with tingling fingers and other symptoms, reports Aviation Week. The troubling events have continued across the service's fleet. In June, CNN reported on the deaths of four F/A-18 Hornet pilots were attributed to "physiological episodes," according to the Navy's in-depth review of oxygen system failures plaguing the service's primary fighter jet and T-45 training aircraft.
DoD continues its deep dive into the F-35's cost, reports Defense News. The assessment team will meet in the coming weeks with the F-35's prime contractor Lockheed Martin, as well as BAE Systems and Northrop Grumman, which make major portions of the fuselage — and lay out the parameters of the review.
North Korean ballistic missile scientists carried out a static test of a new type of solid-fuel engine early last week, reports The Diplomat.
Yonhap reports that a US preventive military strike would not remove all of North Korea's nuclear and ballistic missile capabilities, according to an American expert who calls economic sanctions the most viable tool to end North Korea's nuclear weapons program.
The Special Forces unit attacked in Niger earlier this month was pursuing a senior militant, reports NBC News.
While military leaders emphasize threats and discrimination against minorities are against service value, a Military Times poll finds, among survey respondents, nearly 42 percent of non-white troops report experiencing white nationalism in the military compared to 18 percent of white service members.
Norfolk Naval Shipyard wasted $21 million on equipment, gear for unauthorized security force after 9/11 terrorist attacks, reports the Pilot Online. The Navy Sea Systems Command investigation, obtained by The Virginian-Pilot through a Freedom of Information Act request, began after a 2012 hotline complaint alleging mismanagement, waste, and other violations. The 115-page report, with hundreds of pages of exhibits, was completed in October 2014.
The Marines Times reports on a successful rocket launch from an amphibious ship to destroy land target 70 km away, increasing its support of land forces with deeper strike capabilities.
Arizona-based Vector plans make its first orbital launch from Wallops Island as soon as next summer, reports Space News. In an agreement with the Virginia Commercial Space Flight Authority, three launches of the company's Vector-R rocket will launch in the next two years. The agreement includes an option for five additional launches.
Contracts:
Delphinus Engineering Inc., Eddystone, Pennsylvania (N55236-18-D-0001); Q.E.D. Systems Inc., Virginia Beach, Virginia (N55236-18-D-0002); Epsilon Systems Solutions Inc., National City, California (N55236-18-D-0003); Tecnico Corp., Chesapeake, Virginia (N55236-18-D-0004); Southcoast Welding & MFG LLC., Chula Vista, California (N55236-18-D-0005); Bay City Marine Inc., National City, California (N55236-18-D-0006); Pacific Ship Repair & Fab Inc., San Diego, California (N55236-18-D-0007); and Miller Marine Inc., San Diego, California (N55236-18-D-0008), are each being awarded firm-fixed price, indefinite-delivery/indefinite-quantity, multiple award contracts with a combined maximum ceiling value of $35,000,000 over a five year ordering period to provide depot level repairs, interior & exterior preservation, barge modernization upgrades (e.g. steam to electric conversion, Secret Internet Protocol Router Network/Non-classified Internet Protocol Router Network/wireless local area network upgrade) dockside and dry dock services for Navy barges in the Pacific Southwest (San Diego) California area. These eight small businesses will have the opportunity to provide offers for individual delivery orders. Work will be performed in San Diego, California, and is expected to be completed in October of 2022. Fiscal 2018 operations and maintenance (Navy) funding in the amount of $28,000 ($3,500 minimum guarantee per contract) will be obligated under each contract's initial delivery order and will expire at the end of the current fiscal year. These contracts were competitively procured via the Federal Business Opportunities website, with 13 offers received.  The Southwest Regional Maintenance Center, San Diego, California, is the contracting activity.
Ernst and Young LLP, Washington, District of Columbia, has been awarded a $29,118,902 modification (P00028) to contract W91CRB-14-F-0013 to extend the general fund audit readiness contract by 12 months. Work will be performed in Washington, District of Columbia; and Fort Bragg, North Carolina, with an estimated completion date of Oct. 27, 2018. Fiscal 2017 and 2018 operations and maintenance (Army); and research, development, test and evaluation funds in the combined amount of $17,890,903 were obligated at the time of the award. US Army Contracting Command, Aberdeen Proving Ground, Maryland, is the contracting activity.