Hoyer Visits High-Achieving Students at CSM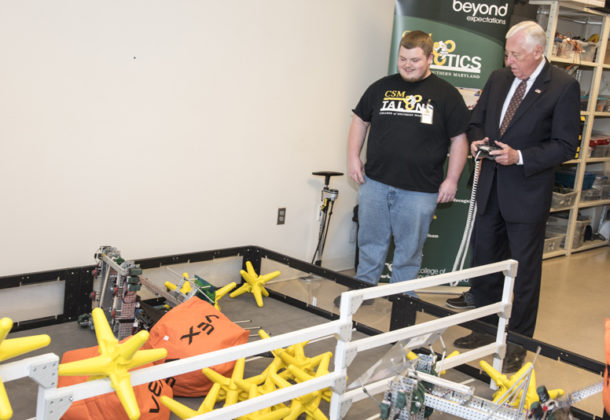 CSM Talons team captain George Jenkins offers tips for operating the team's robot to Congressman Steny H. Hoyer, right, during a demonstration at CSM's robotics lab.
Congressman Steny H. Hoyer (D-Md., 5th) met with some of College of Southern Maryland's most high-achieving students recently. The congressman visited robotics and cybersecurity students May 9, congratulating them on recent collegiate achievements and learning about their academic programs.
"These impressive students, whose skills were recently recognized on the world stage, are excellent ambassadors for the College of Southern Maryland. I was very impressed by a demonstration of the outstanding work these young people are doing, and I look forward to seeing what they accomplish in the future," Mr. Hoyer said.
Congressman Hoyer met members of the Talons, the college's competitive robotics team, which just finished its best year ever. Talons members are George Jenkins of La Plata, Edward Gesser III of Mechanicsville, Wen Xing Lin of St. Leonard, and Dillon Mandley of Charlotte Hall.
The Talons traveled to the VEX-U World Championship in Louisville, Kentucky, held April 19 to 22, and were able to make it to the semifinals. They were competing against other university teams from 40 countries. The Talons won the Innovate award at the international competition for their robot's incredible design.
Congressman Hoyer also was able to congratulate the members of the Cyberhawks, the college's competitive cybersecurity team. Team members are Don Price of Charlotte Hall, Caleb Craft of Waldorf, and Cody Hight of King George, Virginia.
The team won the April 7 Maryland Community College Cyber Competition at the Montgomery Community College Germantown Campus. The Cyberhawks came in first in a competition against more than 20 teams from 10 Maryland community colleges in this inaugural event.
"What you are doing is critically important," Mr. Hoyer told the Cyberhawks.
While he was visiting the college, Congressman Hoyer watched a demonstration in CSM's robotics lab by the Talons of the two robots they used in the world championship. Congressman Hoyer tried his hand at controlling, attempting to toss large cubes and foam stars over a barrier fence. "No guts, no glory," the congressman said as he tried to control the robot, but then caused it to fall over. Mr. Jenkins, the team's captain, stepped in to give the congressman pointers and to right the robot.
To view a short video of the congressman operating the CSM robot, visit CSM's YouTube channel.
In the cybersecurity lab, Mr. Price told the congressman about safety measures discussed in the college courses that can teach people how to avoid being victims of cyberattacks, warning against practices like using thumb drives from unknown sources and using public Wi-Fi.
"This is a critically important skill and research you're doing," Mr. Hoyer told the students. "What you're doing is important to America and to the world."
For information on CSM's cybersecurity program, visit CSM's cybersecurity website. For information on the college's robotics offerings and other STEM programs, visit CSM's STEM website.
To view a gallery of photos from the visit, see CSM's photo sharing website.
Follow Congressman Hoyer on Facebook and Twitter.
For more information about House Democratic Whip Steny H. Hoyer, visit his Leader Page.