Hoyer Views Hurricane Recovery Efforts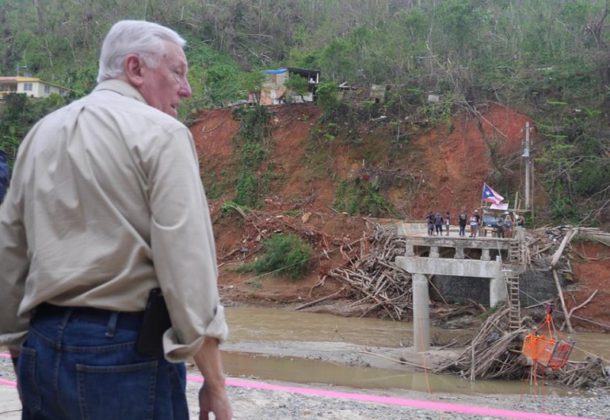 House Democratic Whip Steny H. Hoyer and Majority Leader Kevin McCarthy led a bipartisan congressional delegation to see the devastation and recovery efforts in the US Virgin Islands, Puerto Rico, and the Florida Keys after Hurricanes Irma and Maria.
Natural Resources Committee Chairman Rob Bishop and Reps. Jeff Denham, Norma Torres, Anthony Brown, and Jenniffer Gonzalez-Colon also joined the trip. To view photos of the trip, click here.
"The devastation of Hurricanes Irma and Maria is extraordinary and it will take years for these communities to rebuild. I wanted to have a firsthand look at the challenges they are facing and what it will take to rebuild stronger in the aftermath of these storms. I felt it was important to show our fellow citizens that they are not forgotten – they are Americans and we will stand by them for as long as it takes to rebuild," Rep. Hoyer (D-Md., 5th) said.
"In the U.S. Virgin Islands, I was grateful to Rep. Stacey Plaskett for greeting the delegation in St. Croix and accompanying us on a tour of the island, showing us a condemned school in Frederiksted and Gov. Juan F. Luis Hospital in Christiansted, which sustained extensive damage that has left the hospital with only very limited capabilities. In a meeting with local stakeholders, we discussed recovery efforts and voiced the importance of rebuilding the islands' infrastructure to 21st century standards to withstand future storms," he continued.
In Puerto Rico, the delegation visited Utuado, a town in the interior of the island.
"We met with residents who suffered extensive damage to their homes and property due to landslides, which continue to happen each time it rains. The infrastructure is severely damaged, leaving many communities within the area isolated.  However, it's clear residents are doing all they can to support one another and survive this crisis. In both Puerto Rico and USVI, we must prioritize power restoration, which is critical to getting these communities back on their feet," the congressman said.
Mr. Hoyer said that while visiting the Florida Keys, the delegation saw the destruction of the storms on residents' homes and the challenge of debris removal. In addition, the delegation received a briefing on recovery efforts from the US Coast Guard, FEMA, EPA, and others at Coast Guard Sector Key West.
"Throughout the trip, I was deeply moved by the strength and resilience of the people of USVI, Puerto Rico, and the Keys. The delegation was inspired by their spirit and is determined to provide these communities with the resources necessary to rebuild stronger than before. I thank Members of the delegation for joining in sending a strong message that we will do everything we can to support our fellow Americans during this difficult time," the congressman said.
Follow Congressman Hoyer on Facebook and Twitter.
For more information about House Democratic Whip Steny H. Hoyer, visit his Leader member page.