Hoyer Urges 'Clean Bill' from GOP to Fund DHS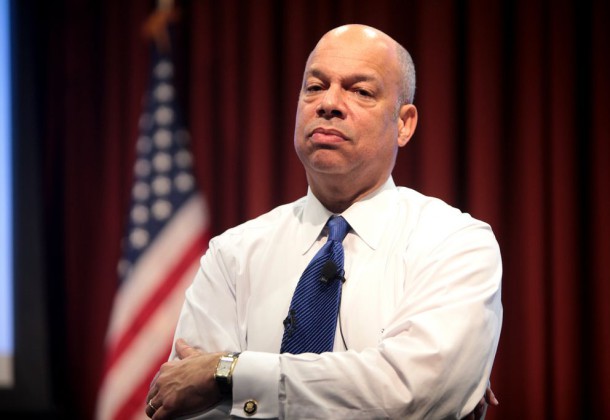 Secretary of Homeland Security Jeh Johnson speaking at the Walter Cronkite School of Journalism at Arizona State University,  Photo by Gage Skidmore, Creative Commons License
Posted for Congressman Steny Hoyer
WASHINGTON, DC – House Democratic Whip Steny H. Hoyer (MD) delivered the following remarks today at a press conference with House Democratic leaders to urge House Republicans to bring a clean bill to fund the Department of Homeland Security to the Floor for a vote:
"The Republicans pledged to America that they would not join together very controversial issues with non-controversial issues.  It took them less than two weeks to break that Pledge to America, and, in doing so, they have put the safety of Americans and the security of America at risk by taking hostage a bill that we all support. In December I advised them [that by funding the Department of Homeland Security through a short-term continuing resolution], they would be in a cul-de-sac and would be right in the place that I predicted… We need – and the American people expect us– to [pass a clean bill to] protect their security, protect them and their families.
"It is time to pass the Department of Homeland Security appropriation bill for the entire year of 2015.  Let us hope our Republican friends and the Republican leaders have the common sense and the sense of duty to do so.  Bring that bill to the Floor now, Mr. Leader."
 If DHS funding lapses at midnight on February 27th, 85 percent of DHS employees would be designated "excepted" and would be asked to work without pay until a funding agreement is reached. The remaining approximately 30,000 employees would be furloughed without pay.
Congressman Steny H. Hoyer (MD-5) cosponsored the bipartisan DHS Employee Retroactive Pay Fairness Act, introduced by Congressman Don Beyer (D-VA), to ensure that all federal Department of Homeland Security employees receive retroactive pay if there is a shutdown, regardless of furlough status. Additional cosponsors are Reps Rob Wittman (R-VA), the lead Republican cosponsor; Eleanor Holmes-Norton (D-DC); Stephen Lynch (D-MA); Chris Van Hollen (D-MD); Donna Edwards (D-MD); Gerry Connolly (D-VA); Scott Rigell (R-VA); John Delaney (D-MD); and Barbara Comstock (R-VA).
"The dedicated employees of the Department of Homeland Security should not be penalized if the Department shuts down," said Congressman Steny H. Hoyer. "From securing our nation's borders to guarding our airport checkpoints, we rely on these employees to keep America safe, and they should be compensated for the hard work they do every day. Federal employees responsible for the safety and well-being of our nation have already endured furloughs and salary freezes, and it is only right that we ensure they receive the pay they have earned. I'm proud to join my colleagues in cosponsoring this bill, and I will continue to advocate for our nation's hardworking public servants."
The American Federation of Government Employees (AFGE), the largest federal employee union representing 650,000 federal and DC government workers, voiced its support for the bipartisan legislation.
"Congress did not penalize workers after the 2013 shutdown, and that is the only fair thing to do again this year," Congresswoman Eleanor Holmes-Norton said. "DHS employees have had nothing to do with the disagreements we in Congress have amongst ourselves."
In a few days, the Department of Homeland Security will run out of funding and shut down, putting national security at risk at a time when we face threats at home and abroad. As we approach the looming February 27 deadline, said Congressman Hoyer, Democrats unanimously support a clean bill at the funding levels agreed to by both parties in December that would keep DHS open. Meanwhile, House Republicans remain deeply divided as GOP leaders refuse to bring a clean bill to the Floor to prevent a shutdown, much to the dismay of many of their Republican colleagues:
Former Republican Governor and first DHS Secretary Tom Ridge: "'It irritates the hell out of me,' Tom Ridge, the first Homeland Security secretary and a former two-term Pennsylvania governor, said in an interview.  'I think it is political folly. I think it is bad policy. I think the political repercussions could be very severe. And on top of that, the men and women of Homeland Security deserve better.'" [Los Angeles Times, 2/22/15]
In the last two weeks, Republicans in the House and Senate have expressed their strong disagreement with these political games and are urging Republican leaders to pass a clean bill to fund DHS without delay:
But instead of taking bipartisan action to fund DHS and ensure the agency has the resources needed to keep America safe, Republican leaders are more focused on pointing fingers at one another than governing responsibly:
Continued Republican infighting and inaction are threatening the resources needed to fund the following areas critical to our security:
Frontline Personnel: A DHS shutdown would force front-line security personnel to work without pay, undermining the morale of the workforce responsible for keeping communities safe, including frontline operational and support personnel at U.S. Customs and Border Protection, U.S. Immigration and Customs Enforcement, Transportation Security Administration, and the U.S. Coast Guard.
Law Enforcement Training: A DHS shutdown would halt law enforcement training, restricting the Department's ability to train new hires who would be working to secure the border and screen passengers.
State and Local Preparedness: A DHS shutdown would impair FEMA's ability to prepare for future disasters by furloughing personnel who work on grant programs that help states and communities improve their ability to respond to terrorism, disasters, and other emergencies.
Research & E-Verify: A DHS shutdown would hurt commerce by restricting the Department's ability to sustain E-Verify, the system that lets employers voluntarily determine whether prospective employees are eligible to work in the United States. All research & development activities would be halted.
Transportation Security Administration: A DHS shutdown would withhold paychecks from TSA personnel charged with screening operations to ensure flight security and effectively screen passengers and luggage every day at more than 450 airports throughout the United States. Approximately 10 percent, or 5,500, of the TSA workforce would be furloughed.
[Information on impacts by the Department of Homeland Security] 
Click here to read the PDF.