Hoyer Plans Election Security Forum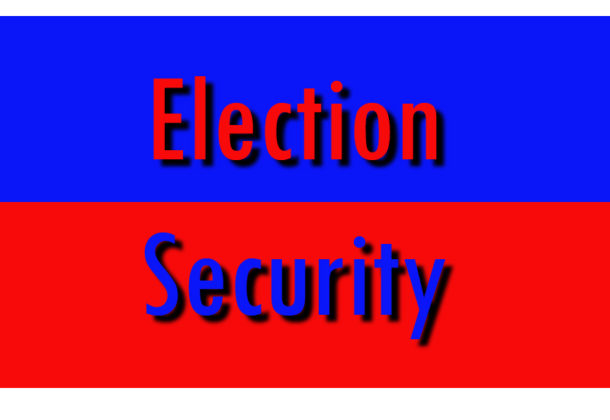 Two US congressmen visited the Election Assistance Commission in Silver Spring in early May, and while there announced their plans to host a public forum on Election Security on May 22 in Rockville. Congressman Steny H. Hoyer (D-Md., 5th) made the announcement with Congressman Jamie Raskin (D-Md., 8th), who serves on the Committee on House Administration, which oversees the EAC.
The EAC is the only national agency that works to make elections more secure, accurate, accessible, and transparent. Congressmen Hoyer and Raskin were instrumental in securing $380 million more in the recently passed omnibus, essential money to help states make their election systems more secure and replace the most vulnerable voting machines. At the Election Assistance Commission headquarters on May 10, the congressmen met with leaders in the EAC and staff to talk about progress on the distribution of the funds through grants to states, then got updates about states' efforts to secure election systems.
"I was pleased to join Congressman Raskin to tour the Election Assistance Commission headquarters," said Congressman Hoyer in a news release. "I join in thanking the EAC for the hard work they are doing to help states ensure our elections are free, fair, secure, and accessible. I was proud to be the lead Democratic sponsor of the Help America Vote Act, which created the EAC to help states improve election administration. The EAC has never been more important than it is today, and that's why I am committed to ensuring the EAC has the resources necessary to protect the integrity of our elections."
Congressman Raskin stressed that it is impossible to have a real democracy without safe elections. "In 2016, America saw the multiple threats that now bedevil our elections. I was proud to work with Whip Hoyer to secure a $380 million infusion for election security across the country. This forum will bring to light what election officials are doing to fortify American democracy against cyber-hacking and tampering and other new perils," he said.
Members of the committee also talked about cybersecurity practices with election technology vendors at the May 10 meeting. In a report that was issued earlier in 2018, the Congressional Task Force on Election Security said election vendors have little financial incentive to make security a priority and are not required to use cybersecurity best practices. The task force suggests requiring that vendors notify the EAC and the Department of Homeland Security about any cyberattacks, and recommends that state contracts require vendors to secure their systems and notify state and local officials about any cybersecurity incidents.
At the May 22 forum, Congressman Hoyer and Congressman Raskin will join EAC officials and experts for a discussion about the state of the country's election systems, EAC's efforts to help states make elections secure, and the need for congressional action to protect our democracy from foreign interference.
The forum also will also hosted by Election Assistance Commission Chairman Tom Hicks and Center for American Progress Voting Rights Manager Danielle Root. It will take place at Richard Montgomery High School at 250 Richard Montgomery Drive in Rockville. It will begin at 7 pm.
Follow Congressman Hoyer on Facebook and Twitter.
For more information about House Democratic Whip Steny H. Hoyer, visit his Leader Page.