Hoyer Picnic Fills Barn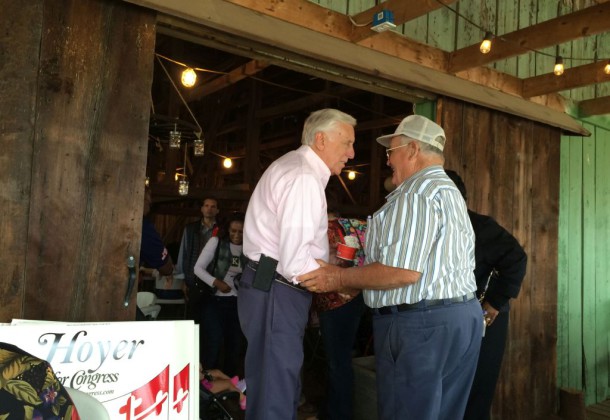 Posted for Congressman Steny Hoyer
Serenity Farm on the Patuxent River in Benedict, MD, hosted Congressman Steny Hoyer's fourth annual Southern Maryland Family Picnic this year.
The annual picnic is free to attend and draws constituents of Rep. Hoyer's 5th District from the three Southern Maryland counties and gives them a chance to speak with their congressman in a casual setting.
The Paul Hall Center of the Seafarers International Union provided the bar-b-que and Brewsters of Hollywood, MD, provided the ice cream for this year's picnic.
A petting zoo drew children and adults, many of whom arrived via a hay ride. The petting zoo, farm tours, and much more are available at Serenity Farm, which also produces and sells natural and pasture-raised beef, lamb, and pork.
The Annual Southern Maryland Family Picnic also, consistently draws the region's Democrats, including Delegate Michael Jackson (Calvert), Sue Kullen from the office of Senator Ben Cardin (MD), former Delegate John Bohanan (St. Mary's), former Senator Bernie Fowler (Calvert), and former Commission President Jack Russell (St. Mary's).
Among a growing array of community outreach efforts in both feeding those in need and helping those in recovery, Serenity Farms also hosts a new nonprofit committed to preserving the agricultural heritage of Southern Maryland, the Farm Heritage Conservancy. It's mission: "To Reconnect People to the Land through Preservation, Cultivation, and Education."
The organization is committed to creating an authentic experience for the public, engaging them in the lives of all who have lived and worked the land that is now known as Serenity Farm, including Native Americans, Europeans, and African-Americans.
For more information on the Farm Heritage Conservancy and an array of additional opportunities sponsored by Serenity Farm, call 301-399-1634. Or visit the Serenity Farm website linked above.