Hoyer Joins Fowler for 31st Wade-In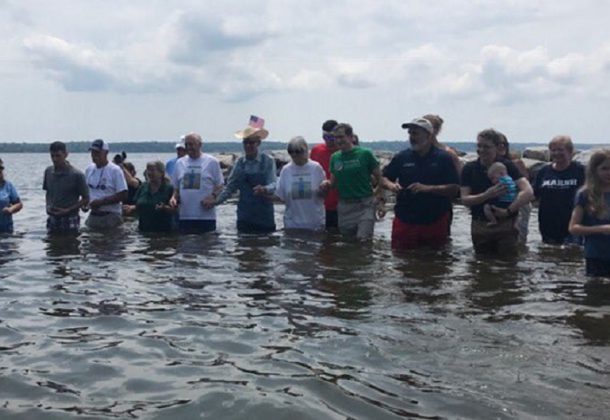 31st Year for Annual Event in the Patuxent River
Congressman Steny H. Hoyer attended former Maryland state senator Bernie Fowler's 31st annual Patuxent River Wade-In on Sunday, June 10, 2018, at Jefferson Patterson Park & Museum in St. Leonard.
Each year, Bernie Fowler walks into the Patuxent River to assess how far he can wade until he can no longer see his white sneakers. The "Sneaker Index," a non-scientific measurement of water quality, highlights the importance of the health of the Patuxent River and the Chesapeake Bay. The farther he can wade the better the clarity of the water.
This year's Sneaker Index was measured at 36 inches.
"I was so pleased to join my friend Bernie and members of the Southern Maryland community today to highlight the importance of the health of the Patuxent River and the Chesapeake Bay," said Congressman Hoyer (D-Md., 5th) on the day of the event. "For thirty-one years, Bernie has focused our attention on the health and cleanliness of our waterways, and we are truly grateful for his efforts."
"We must continue to work together here in Maryland to protect our environment, so that future generations can enjoy that which we treasure," continued Congressman Hoyer.
The congressman said he is working with his colleagues in Congress to combat attacks on our environment. "Clean air and a healthy bay are extremely important to the livelihood of many Marylanders, and I look forward to continuing to work with all stakeholders to build on Bernie's efforts," the congressman said.
Bernie Fowler held the first Patuxent River Wade-In in 1988. For many years the event was held in Broomes Island on the Patuxent near Fowler's boyhood home. The event was later moved to Jefferson Patterson Park & Museum.
Follow Congressman Hoyer on Facebook and Twitter.
For more information about House Democratic Whip Steny H. Hoyer, visit his Leader member page.