Hoyer Announces Academy Appointments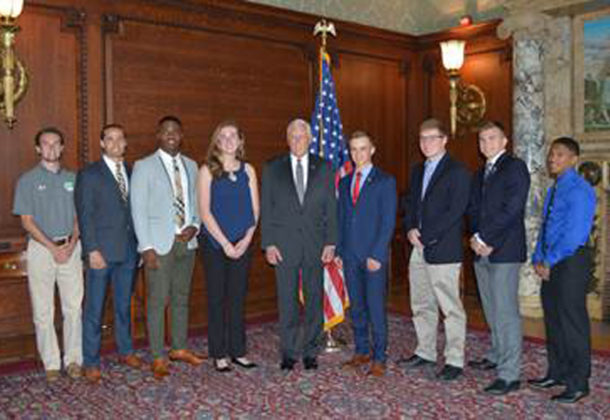 On June 11, 2018, Congressman Steny H. Hoyer announced the names of 10 students in Maryland's Fifth District who have been appointed to the US service academies. Recipients of the service academy appointments accepted offers to the Air Force Academy, the Naval Academy, and the Military Academy at West Point.
Every service academy requires a nomination from an authorized nominating source. On June 11, Congressman Hoyer (D-Md., 5th) hosted a reception in honor of the nominated students at the Library of Congress in Washington; eight of the 10 students were able to attend.
"It is my honor to nominate outstanding Fifth District students to serve our nation at the military service academies," said Congressman Hoyer in a news release. "I am impressed by each one of these hardworking students, and I join in congratulating them for their appointments. Each one of these students will bring their own unique set of skills and perspectives to the academies, and I look forward for all that they will accomplish during their service."
At the same time, Congressman Hoyer announced the winners of the Army Congressional ROTC scholarship. The scholarship allows members of Congress to nominate up to five candidates who did not receive an appointment to a military service academy. Three students from the Fifth District were awarded the scholarship this year, and two of the recipients were in attendance at the reception – Shiloh Cumber of Charles County and Camaran Gaillard of Prince George's County.
The following Fifth District students received appointments:
US Air Force Academy
Mackenzie Morgan of Calvert County
Brett Culhane of Charles County
Ian Reger of Prince George's County
Joseph Perrin of St. Mary's County
US Naval Academy
Colin Taeschner of Calvert County
Joshua Carson of Charles County
Joseph Buckley of St. Mary's County
Samantha Chan of St. Mary's County
US Military Academy at West Point
Nathan Byington of Anne Arundel County
Michael Jackson of Prince George's County
Follow Congressman Hoyer on Facebook and Twitter.
For more information about House Democratic Whip Steny H. Hoyer, visit his Leader Page.