How's Steve Richman? Not a Problem in the World!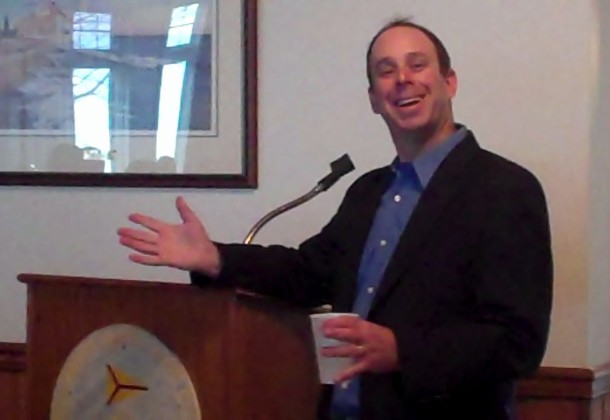 In a ra-ta-tat-tat blend of comedy, stats, technology, even insight into landing a first-class airline upgrade from business seating, motivational trainer Steve Richman evoked 90 minutes of ah-ha moments last week from 50 Southern Maryland real estate agents and mortgage lenders, including this one:
Get the answer right to the most asked question there is — How are you? — and reap the rewards in every aspect of your life.
So learned the agents and lenders attending PRMI's presentation of nationally recognized motivational trainer  Steve Richman. Billed by the event's host, Primary Residential Mortgage Inc., in California, MD, as an "hour of power," the extended "hour" contained insights about the housing market, selling to millennials, and bumping up your sales game in any venue.
That bump-up starts with a positive response to the most commonly asked question, How are you? Mr. Richman credits a memorable, positive answer at the ready for the opening to success, and those bump-ups to first class. Mr. Richman explains his technique in the video, opened by Barry Friedman of the California, MD, PRMI office that brought the presentation to Southern Maryland.
"I was so impressed when I heard him I knew I had to bring him here," Mr. Friedman told the packed room. Most impressive to him personally, Mr. Friedman said, was hearing Mr. Richman say it took 21 days to change a habit. It led him to "take stock" and work Mr. Richman's technique into the PRMI office. And taking stock including bringing Steve Richman to more of PRMI's Southern Maryland colleagues.
Billed by Genworth as their MI Guy, Mr. Richman's high-energy, non-stop conversation on sales techniques ranges from the large overview of Generational Marketing to Apps to improve Your Communication Tools. In the video below he takes apart the popular notion that sales based on relationships carry a larger return than sales based on the unadorned transaction of: I have it. You want it. Sold.
Both are important, but Mr. Richman's charts and statistics show that more customers prefer the unadorned transaction. No matter the product, Mr. Richman said, "Customers want: Fast. Easy. Correct. Reasonably priced."
Touting lists and charts as highly effective marketing tools, Mr. Richman flashed through plenty: Where the real estate market is growing and going. How the size and shape of today's economy interfaces with that market. How to increase sales in that market, and be ready for the market to come.
His presentation, bordering on stand-up comedy, took participants from the economic overview into the specific online subscriptions to maintain a current overview for yourself. He offered a raft of  free and inexpensive apps to best manage real estate sales, such as apps to measure the dimensions of rooms, place furniture in those rooms, access the sales price from a photo of the front of a house, even to maintain mileage records acceptable to IRS standards.
And above all, how to make a favorable impression and turn that impression into success.
Mr. Richman, a Maryland native, remains a proud and vocal Terp. Mr. Richman's expertise honed into the nuances of Maryland's market, which is heavily weighted to government workers and has a broader range of variables in its wide housing stock. And acknowledged the growth in Southern Maryland.
"We have a vibrant, and broad-base of home buyers in Southern Maryland," Mr. Friedman said. "What Steve Richman talks about are the ways to reach all parts of that market today, with today's communication tools."
Primary Residential Mortgage is at 23131 Three Notch Road, Suite 201, California, MD  20619; 301-737-0001.