Hospital Foundation Gala Raises $150,000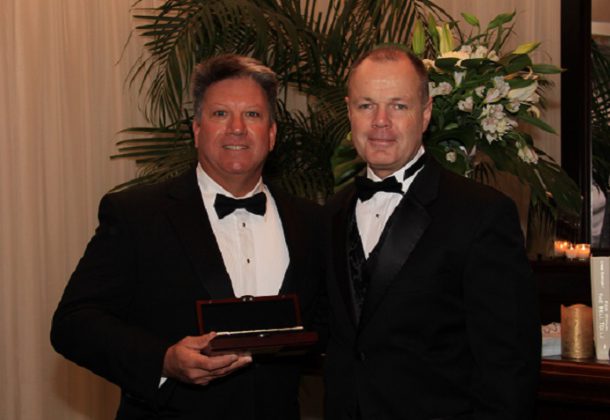 St. Mary's Hospital Foundation Gala Presenting Sponsor, The Cherry Cove Group, receives a special gift during the 2016 event. Pictured are Vince Whittles, left, St. Mary's Hospital Foundation member, and Brian K. Norris, president and chief executive officer of The Cherry Cove Group.
Charismatic Old Havana Guides a Giving Spirit
The St. Mary's Hospital Foundation took hundreds of guests on a trip to Old Havana. The foundation's 29th annual gala, held each year at the Hollywood social hall, this year raised more than $150,000 for MedStar St. Mary's Hospital's health care scholarships, capital projects,and new equipment. This year's theme was "Viva! A Night in Old Havana."
The gala was sponsored by the St. Mary's Hospital Foundation and The Cherry Cove Group. The event offered guests an evening filled with the tropical splendor of an old-world city known for its enticing cuisine and intoxicating music. Featuring a Cuban-inspired gourmet dinner by Ken's Kitchen of Annapolis, lively music by the band Attraction and a guest performance by the DC Casineros, Southern Maryland's premier event — the 2016 Foundation Gala — was a huge success, organizers said.
"It's great to see the community come together for a night of fun for a greater cause," said Vince Whittles, St. Mary's Hospital Foundation member. "The gala provides the cornerstone for the foundation to be able to fund improvements to our hospital and also to provide health care-related educational scholarships to local students. The community support, like the event itself, year after year is simply amazing!"
Many Southern Maryland businesses, medical professionals, and local organizations sponsored the evening's festivities. The foundation and MedStar St. Mary's Hospital would like to acknowledge and thank all sponsors of this year's event, especially Presenting Sponsor ($25,000) The Cherry Cove Group.
Thank you to this year's Premiere Sponsors ($15,000): Associates in Radiation Medicine, MedStar Shah Medical Group, US Acute Care Solutions, Christine Wray and John Felicitas; and Diamond Sponsors ($10,000): AMEWAS Inc., G&H Jewelers, MedStar Health, and Jennifer and Tim Meyer. An additional 51 businesses and community members generously sponsored the event at Platinum ($6,000), Gold ($4,000), Silver ($2,500), and Bronze ($850) levels.
Special thanks for the evening is extended to the St. Mary's County Sheriff's Office Color Guard, Jan and Tom Barnes, ServPro of St. Mary's and Calvert, graphic arts students from the James A. Forrest Career & Technology Center, Hargrove Inc., Something Special by Tracy, Kerry, and Jill Klear of the Printing Press, and Tom and Carol Davis of Your Journey Studios.
The 29th annual foundation gala, "Viva! A Night in Old Havana," captured the liveliness and traditions of the Cuban city. Twinkling lights and lush palm trees lined the walkway leading into the social hall, where guests were greeted by a cityscape of vibrant turquoise and orange hues and the soothing island sounds of musician Mickey Ramos. Outside were three vintage cars similar to those found on the streets of Old Havana and loaned to the foundation for the evening by Melissa Friess-Bailey (1956 Chevrolet Bel Air) and Eddie Bailey (1957 Buick Roadmaster and 1958 Buick Super).
To date, the foundation's scholarship program has made awards to more than 132 local students pursuing education in nursing and allied health, ensuring a qualified health care workforce today and for the future. Funds raised by the foundation also provide support for capital expansion projects and equipment.
Click here to view photos taken at the event.
For more information and one-click access to a full list of resources available at MedStar St. Mary's Hospital, visit their Leader Page.