Homeless and Afraid, But Warm, on Christmas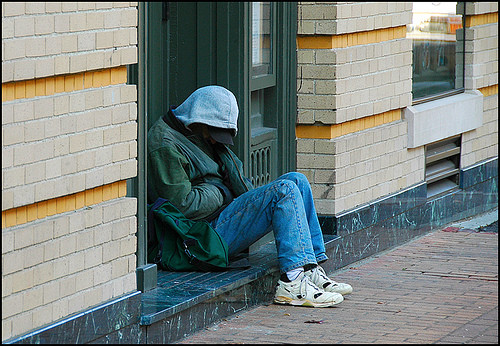 Posted for Three Oaks Center
Community Builder
So what goes through the mind of a person who has no family, no friends and no home on Christmas? Loneliness? Depression? Sadness?
"The fear of freezing to death," says Lanny Lancaster, executive director of Three Oaks Center.
Life gets pretty basic on the streets of Lexington Park, Maryland as the temperature starts to drop toward the end of December. While many of the Center's clients stay away during the warmer months – suffering from irrational fears and intense mental illness – they begin to trickle in about this time as the prospect of sleeping in the woods, alone, becomes dangerous.
"When the weather gets below freezing, we see the people who are very reluctant to come in," Lancaster said.
For this group of people, the wistful feelings of a lonely holiday are a distant luxury. Exhibiting symptoms of severe substance withdrawal or psychosis, they are often overcome by anxiety and fear by the time they force themselves to come to the Center a seek a warm place to sleep. The fear is often exhibited in hostile or extreme behavior, Lancaster said.
The fortunate circumstance is that the cold weather often coincides with the holidays, and several groups step up their charitable work at that time. The most needful tend to appear as people are at their most charitable.
This year, for example, Church of the Ascension will provide clothing and toys to women and children at Three Oaks' women's shelter. And Blue Wind restaurant will provide a Christmas dinner for the Center's clients. Several other groups will provide hats, gloves, socks and underwear for the Center's clients.
"People tend to remember that there are people with those types of problems" around the holidays, Lancaster said.
To contact or donate to Three Oaks Shelter, visit their web site at threeoakscenter.org.