Holiday Display Contest Winners Honored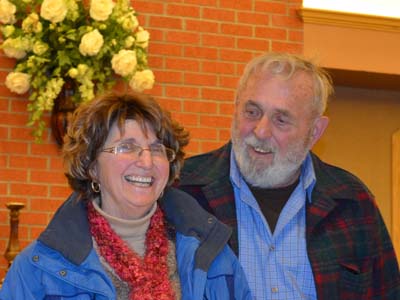 Posted by Comfort Inn & Suites and
Lexington Park Business and Community Association
Bay Leader
The winners of the Lexington Park Business and Community Association's fourth annual Holiday Display Contest were honored Wednesday night at the Association's January meeting.
Grapevine Antiques owners Hellen and Ken Newell won first prize, a three-month contract with the Lexington Park Leader. Their design featured an oversized polar bear, donning Santa's hat, relaxing in an antique rocker surrounded by coco-filled tea sets and other vintage memorabilia. Grapevine vender Troy Meister's hand-crafted garlands and wreaths decorated the posts and cornice fronting the business dressing up the entire block.
Pet Salon owner Sunny Oh took second place, winning a month of advertising with Southern Maryland News Net. To market their pet grooming business, Mr. and Mrs. Oh created a display of cats and dogs outlined in twinkling holiday lights sitting next to a wheelbarrow overflowing with poinsettias. Garlands circled the poles, awnings and entrance to the Salon. Mr. and Mrs. Oh expressed their excitement and appreciation for the second place win over the steady buzz of clippers, while expertly grooming two pooches.
Julie Pitt, owner of Kenny's Flowers and Gifts received and honorable mention for continuing her company's tradition of decorating the windows to accentuate holidays throughout the year.
Sharon McLeod-Hare, manager of the newly opened Comfort Inn and Suites, received a flower arrangement from the association for chairing this year's holiday display contest. However, she declared she will not chair the contest next year.
"I'm going to win it!" Ms. McLeod-Hare declared.