Hogan Visits CSM Hughesville Campus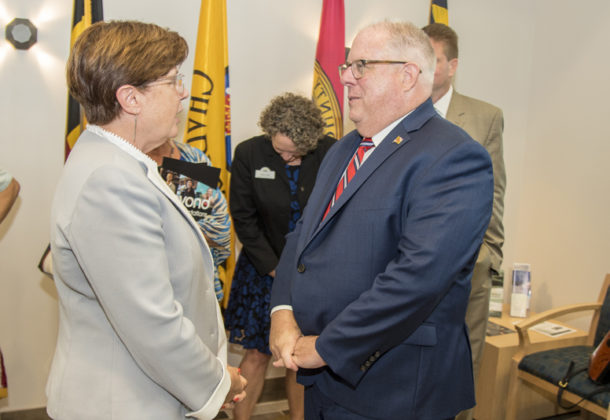 Maryland Gov. Larry Hogan and CSM President Dr. Maureen Murphy talk about the soaring employment projections for laborers entering the fields of HVAC, electrical, construction, plumbing, and welding and what CSM is doing to help prepare businesses and students to meet the need.
Maryland Gov. Larry Hogan was welcomed by College of Southern Maryland President Dr. Maureen Murphy to the Center for Trades and Energy Training at CSM's Regional Hughesville Campus recently. The governor took a tour and was able to hear about about CSM's expanded programs tailored specifically for carpentry, construction, and energy trades. Gov. Hogan and Dr. Murphy were joined by several college leaders and a class of students who were attending a US Department of Labor Occupational Safety and Health Administration course for their places of employment.
"We were thrilled to spend a few hours with Gov. Hogan and explain how CSM plays a significant role in shaping the local economy by educating and training the future workforce and enriching the lives of Southern Maryland residents," said Dr. Murphy in a news release. "The Center for Trades and Energy Training provides residents direct access to specialized training in career fields that have substantial growth potential, including HVAC, plumbing, electrical, carpentry, welding, and environmental trades.
"For me, personally, it's the first time a governor has come to one of my campuses," she said. "He didn't come to make an announcement. He came because he supports community colleges and that is very meaningful. It was a great way to get our message out about the affordable, superior programs and training we provide for our region, and beyond."
The governor thanked Dr. Murphy and all of the college staff for his tour of the Center for Trades and Energy Training.
"We are incredibly excited that our Maryland Department of Labor, Licensing and Regulation's nationally recognized EARN Program will be working with the college and the Construction Workforce Partnership for Southern Maryland to ensure our students have the skills they need to enter the workforce," Gov. Hogan said.
EARN Maryland is a state-funded, competitive workforce development grant program that is industry-led, regionally focused, and is a proven strategy for helping businesses cultivate the skilled workforce needed to compete. EARN Maryland invests in strategic industry partnerships from key economic sectors in all regions of the state. The partnerships use the power of coordination across education, workforce and economic development initiatives to address the varied needs of every company, starting with the training of skilled employees.
Student Sean Winn of Richmond, Va., said he "was caught a little off-guard by the informal, but genuine visit" from the governor and college officials. He was one of the several students enrolled in the OSHA class who met with the governor and Dr. Murphy during a class break. Mr. Winn, a retired Army veteran who served three tours in Iraq, is now working for the Washington Suburban Sanitary Commission. He said that while his and the governor's conversation started off about Mr. Winn's job at WSSC, it took a quick turn to the governor's commitment to keeping veterans employed.
"It was really cool being here at the College of Southern Maryland as a retired war veteran and receiving so much respect from the governor of Maryland and the college president for not only my service, but also for my commitment to continued education," Mr. Winn said. "I am very committed to veterans, and I could tell they are, too."
Gov. Hogan and other attendees toured the 30,000-square-foot CTET that houses state-of-the-art welding, electrical, carpentry, plumbing, CAD, and HVAC labs. The visitors also got a briefing on the planned expansion of the Regional Hughesville Campus. Designs for the second phase of the campus – a Center for Health Sciences – are expected to be completed next spring with construction planned to being in June 2019.
Gov. Hogan also congratulated CSM for celebrating its 60th anniversary which fell on Sept. 17. "I just want to thank everyone for the great work you are doing here and for all students at the College of Southern Maryland," he said.
For more information about the Center for Trades and Energy Training, visit the center's website.
More about the Regional Hughesville Campus can be found on CSM's website.
For more about the College of Southern Maryland, visit its Leader member page.