Heely, Christian Speak at Lunch & Learn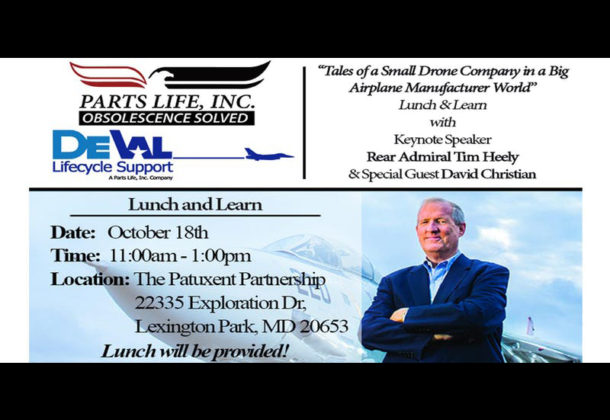 RADM Tim Heely and David Christian, author of "Victor Six," will be the speakers at an Oct. 18, 2018, Lunch & Learn event offered by The Patuxent Partnership. The event will be held from 11 am to 1 pm.
Parts Life Inc. is host of the event, and lunch will be provided. Registration is online. RADM Heely will tell the "Tales of a Small Drone Company in a Big Airplane Manufacturer World." He has been on every side of unmanned vehicle acquisition – from procurement official for the US government, to a large defense contractor that manufactures UAV sensors and systems, to being in charge of a small start-up business with a Tier 3 vehicle that is the world record holder for conventionally powered unmanned flight. RADM Heely will discuss the vehicle, pursuing funding (private and governmental), and how a small company can find its way in a big company world.
He has 40 years of professional experience with government and industry. His work in the US Navy included program executive officer for Naval Unmanned Aviation and Strike Weapons (PEO(U&W)) where he was responsible for the development, acquisition, testing, and support of all Navy and Marine Corps unmanned air vehicles and strike weapons; chief engineer for the Naval Air Systems Command; and commanding officer of VFA-192 flying FA-18 combat missions during the Gulf War.
He has gained industry experience as president of SPARTA, a 1,200-person $380 million company that provides technical services and solutions to US national intelligence agencies and to the Missile Defense Agency, plus composite manufacturing. He then led the Washington, DC, office of a British-owned defense company called Cobham North America, where he provided corporate strategy in unmanned systems both in the air and on the ground. RADM Heely is now president of Vanilla Unmanned, a small business that builds and operates ultra-long endurance unmanned air vehicles headquartered in Hollywood, Md.
Author Speaks
David Christian was in the US Army as a sergeant, lieutenant, and captain in the Vietnam War. While he served as a lieutenant in South Vietnam, he was wounded in action seven times and awarded numerous medals that include the Distinguished Service Cross for extraordinary heroism. He is known best for his veterans' advocacy efforts.
In 2012, Mr. Christian was a Republican candidate for the US Senate in Pennsylvania. He also co-authored "Victor Six," the saga of America's youngest, most decorated officer in Vietnam.
About The Patuxent Partnership
TPP fosters collaboration and the sharing of knowledge and expertise across a diverse network that includes government, industry, and academia. TPP also supports STEM education and workforce development within the local community including hosting programs of interest to NAVAIR, NAWCAD, and the broader DoD community.
To learn more about The Patuxent Partnership and its programs, visit its Leader member page.