Harwood New Chair of CSM Trustees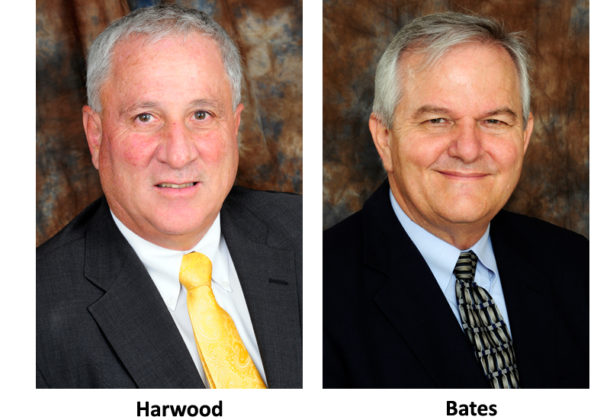 Theodore L. Harwood of St. Mary's County has been appointed chair of the College of Southern Maryland Board of Trustees, and Bradley O. Bates of St. Mary's County has been appointed vice chair. The appointments were made at the board's June 15 meeting and went into effect July 1.
Mr. Harwood has been on the board since 2010. He has been the trustee representative to the CSM Foundation and served two terms as the board's vice chair. He earned a bachelor of science in naval science from the US Naval Academy in 1974. For 28 years he was a member of the active duty and reserve contingents of the naval aviation community, beginning as an F-14 radar intercept officer and then culminating at the Pentagon in OPNAV, where he was head of budgets for naval platforms.
Mr. Harwood works for Wyle as a lead engineer. He is recognized nationally and internationally for his technical expertise in electromagnetic environmental effects, lightning and aviation. He and his wife, Nancy, have lived in Hollywood since 1997.
Mr. Bates lives in Tanner Creek and retired in June 2017 from the Defense Acquisition University, where he was professor of program management. Before that he was a program manager at the Johns Hopkins University Applied Physics Laboratory. While at JHU/APL, he taught project management and program planning for the Johns Hopkins University Whiting School of Engineering Technical Management Department.
Mr. Bates has a master of science degree in technical management from Johns Hopkins as well as a bachelor of science degree in vocational education studies from Southern Illinois University – Carbondale. He is married and has two grown children.
The CSM Board of Trustees provides leadership and oversight of the college's mission and policies. Members are appointed for five-year terms by the governor. There are nine members of the board, with Calvert, Charles, and St. Mary's counties equally represented. Chair and vice chair are chosen by the trustees annually.
In addition to Mr. Bates and Mr. Harwood, trustees include Margaret C. Dunkle, Samuel C. Jones and Jay W. Webster of Calvert County; Lois E. DiNatale, Michael L. Middleton, and Dorothea Holt Smith of Charles County; and Dr. John W. Roache of St. Mary's County.
James Di Misa of Charles County is newly appointed and began serving in July. He replaces Middleton, whose term expired June 30.
Middleton Honored
During the June 15 meeting, the trustees honored outgoing trustee Mike Middleton for his service with board emeritus status. Mr. Middleton has been on the board since 2007. He was chair of the trustees 2013-15 and vice chair 2012-13.
Board Chair Dorothea Smith spoke about Mr. Middleton during the meeting.
"During his tenure, Trustee Middleton has been diligent in promoting the mission of the board of trustees in its responsibilities to proactively govern the College of Southern Maryland, ensure institutional integrity and promote excellence of post-secondary education in meeting the needs of the Southern Maryland community," Ms. Smith said. "He has supported the college's two major fund-raising campaigns through the CSM Foundation to fund scholarships for students and he is an avid proponent of the Regional Hughesville Campus. As a trustee his commitment to CSM has been commendable."
Gottfried Given President Emeritus Status
Also during the meeting, CSM's outgoing president Dr. Brad Gottfried was granted president emeritus status upon his retirement June 30, for his distinguished service to the college and serving as the college's fourth president, from 2006 to 2017.
"As president of CSM for 11 years, Dr. Gottfried has provided extraordinary service to the college," Ms. Smith said. "His vision, leadership, and community involvement has made a lasting impact on the growth of CSM and the Southern Maryland region. Under his leadership, there have been expansions in not only educational opportunities for all students but also funds for scholarships through the CSM Foundation's two campaigns of which he has been a staunch contributor. His vision and understanding of the needs of the community have resulted in the regional campus located in Hughesville which is lauded by all segments of the population. Being an active participant in his community, Dr. Gottfried also initiated three institutes – the Nonprofit, Diversity and the Entrepreneur and Innovation institutes – to better serve the community. He has demonstrated love for education and his legacy of building for the future will continue on at the college."
Incoming CSM President Dr. Maureen Murphy will now serve in the role of secretary/treasurer to the board, effective July 1.
For more about the College of Southern Maryland, visit its Leader member page.