Harwood, Bates Re-Appointed as CSM Trustees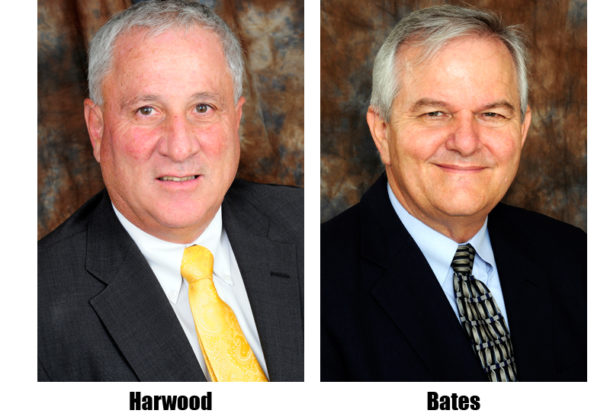 Theodore L. Harwood of St. Mary's County has been re-appointed as the chairman of the College of Southern Maryland Board of Trustees and Bradley O. Bates of St. Mary's County has been re-appointed as vice chairman, effective July 1, 2018, through June 30, 2019. Mr. Harwood was first appointed to the CSM trustees board in 2010 and has also served two terms as vice chair of the board and as the trustee representative to the CSM Foundation.
He earned his bachelor of science degree in naval science from the US Naval Academy in 1974. He was a member of the active duty and reserve contingents of the naval aviation community for 28 years, beginning as an F-14 radar intercept officer and culminating at the Pentagon in OPNAV as head of budgets for naval platforms.
Mr. Harwood is now a lead engineer with Wyle and has more than 36 years of engineering experience. He is recognized nationally and internationally for technical expertise in electromagnetic environmental effects, lightning, and aviation matters. He co-owns two patents and is an assignee of two others. He and his wife Nancy have lived in Hollywood since 1997.
Mr. Bates of Tanner Creek retired in 2017 from the Defense Acquisition University, where he was a professor of program management. Before that, he served as a program manager at the Johns Hopkins University Applied Physics Laboratory, where he taught project management and program planning for the Johns Hopkins University Whiting School of Engineering Technical Management Department.
He earned a master of science degree in technical management from the Whiting School of Engineering, Johns Hopkins University, and also a bachelor of science degree in vocational education studies from Southern Illinois University – Carbondale. He is married and has two grown children.
The CSM Board of Trustees is the governing body that provides leadership and oversight of the college's policies and mission. Members are appointed by the governor for five-year terms. The board includes nine members, with Calvert, Charles, and St. Mary's counties equally represented. The chair and vice chair are chosen by the trustees among themselves annually.
In addition to Mr. Harwood and Mr. Bates, CSM's trustees include Margaret C. Dunkle, Samuel C. Jones, and Jay W. Webster of Calvert County; James Di Misa (1979 CSM Alumna), Lois E. DiNatale, and Dorothea Holt Smith of Charles County; and Dr. John W. Roache of St. Mary's County. Secretary/treasurer to the board is CSM President Dr. Maureen Murphy.
Coates Appointed, Smith Honored
Newly appointed by Gov. Larry Hogan to serve CSM as a trustee with his term to begin in July is Shawn Coates of Charles County. He replaces Smith, whose term expired June 30.
At their June 21 board meeting, the trustees honored outgoing trustee Ms. Smith, of Waldorf, for her service by awarding her board emeritus status. She was appointed to the CSM trustees board in 2007 and has served two terms as the chair and two terms as the vice chair. A graduate of Bowie State University with bachelor of science and master of education degrees, Ms. Smith is a retired educator. She began her 30-year teaching career in 1965 in the Charles County Public Schools. During her career, she received the Agnes Meyer Outstanding Teacher Award presented by The Washington Post, and of the Charles County Teacher of the Year Award. Last October she was recognized by the Association of Community College Trustees as the 2017 recipient of the Trustee Leadership Award for the Northeast Region.
For more about the College of Southern Maryland, visit its Leader member page.