Great Mills Trading Post Moves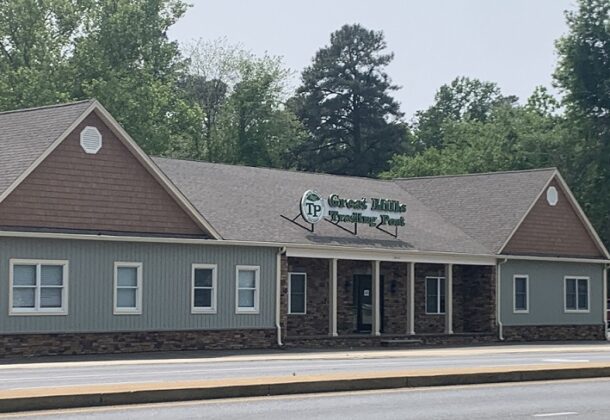 Great Mills Trading Post has moved. It would seem a small distance, only a block and a half south and across the road. Assuredly still within the boundaries of Great Mills, something of paramount importance to Bubby Knott who started the company 53 years ago. To him, the trek across the road from the Trading Post's original address is monumental.
Three generations of family praise the renovation of their new headquarters, including Mr. Knott. The color scheme, reflective of the identifiable deep green and white GMTP logo, has been repeated in their new digs. Desks, paintings, collectibles of a consummate collector have been transported into new spots crafted to look familiar. Yet when that consummate collector, Mr. Knott himself, turns from his oversized screens of ongoing auctions of mostly large vehicles and equipment, he gives a baleful look. This was not his choice. It was, however, inevitable. And it is monumental.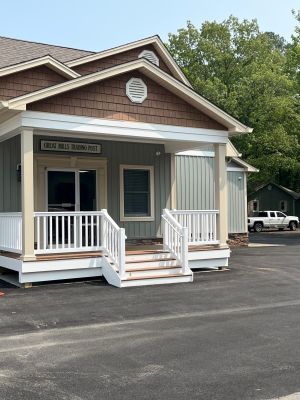 Bubby Knott's family business opened in 1970 at what was then a prime location for the company's beginnings — buying and selling anything from scrap metal to firewood to furniture. Great Mills Trading Post opened at the intersection of MD 5 and two of the only connector roads in St. Mary's County: Indian Bridge and Flat Iron. Much of what traffic existed, ultimately passed by there.
The high traffic and visibility of the location mattered less as GMTP grew and diversified into an excavation and earth moving operation and then expanded and diversified well beyond that.  For the past three decades Great Mills Trading Post has operated as a general contractor for commercial building needs in all major industries. The full-service firm offers everything from planning and permitting through earthwork and construction. Great Mills Trading Post has successfully completed local, state, and federal government contracts for every stage of commercial development. The company has worked as the general contractor for transportation, utility, and military facilities across the region.
While unnecessary to Great Mills Trading Post's success, steadily growing traffic is what forced the company move.
Between the old and new Great Mills Trading Post headquarters, is a two-lane bridge on MD 5 crossing the headwaters of St. Mary's River. It has been a growing bottleneck for commuters headed to or from the Patuxent River Naval Air Station. In the way of these matters, it has taken decades for the fix to arrive.
The approved State Highway Administration's plan to replace the bridge and improve drainage also includes the reconfiguration of the misaligned intersection of Flat Iron and Indian Bridge roads. So while the old Trading Post is still visible from the company's new offices, that horizon is scheduled to change.
Bubby Knott shrugs. It's inevitable.
For over 30 years Great Mills Trading Post has been serving the community as a general contractor for  commercial building needs in all major industries. Clients include local, county, state, and federal governments, including St. Mary's County Public Works & Transportation Department, St. Mary's County Metropolitan Commission, Maryland State Highway Administration, Patuxent River Naval Air Station, the US Navy, and more.
For more information about Great Mills Trading Post call 301-994-1306, visit their website at GMTP.net and their Leaders Member Page.