Global Fleet of F-35 Jets Grows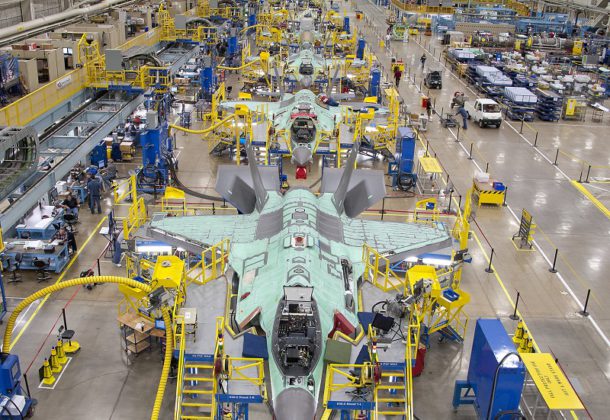 Morning Coffee is a robust blend of links to news around the internet concerning the Naval Air Station Patuxent River

economic community. The opinions expressed here do not reflect opinions of the Leader's owners or staff.
Since the first F-35 rolled off the production line in 2006, the stealth fighter has taken the world by storm. US F-35s are being deployed to Europe, the Middle East, and beyond. The program's reach has expanded to 12 nations, and all signs point to the F-35 continuing to dominate the Western fighter market for decades to come, reports Foreign Policy. See which countries are buying the jets.
France and Germany will work together to build a new fighter jet set to enter service in the mid-21st century, reports Popular Mechanics. The unnamed fighter is set to have advanced capabilities including the ability to command swarms of drones. Defense One reports that amid NATO infighting, the future of the F-35 is shrinking.
The US Navy has awarded General Atomics a contract worth more than $39.5 million to fly its own MQ-9 Reaper drones to keep watch over a US Marine task force in Afghanistan, reports The Drive.
Navy special operations veteran and former vice admiral Joseph Maguire has been nominated to lead the National Counterterrorism Center, reports Navy Times. Since 2013, Mr. Maguire has been president and CEO of the Special Operations Warrior Foundation.
Many of the Navy's ships' hulls can last another five to 17 years and get to a 355-ship fleet much faster than expected, but a Capitol Hill staffer says Congress is still waiting for the service's plan to ensure those old hulls have up-to-date weapons, reports Breaking Defense.
Capt. Mark Vandroff of the Carderock Division of the Naval Surface Warfare Center tells the American Society of Naval Engineers that adding extra electric power capacity in ships currently in design was a good idea but that new weapons and systems will still pose a challenge to naval engineers when it comes time to back-fit them to existing platforms, reports Defense News. The captain says the Navy will need to integrate lasers, electromagnetic rail guns, and other weapons and sensors to take on competitors in the future.
The Navy and Marine Corps have found that less experience in aviation maintenance crews has contributed to a rise in Class C mishaps – often taking place during aircraft towing or repair work – and are taking steps to reverse this trend, reports USNI News. Class C mishaps, which involve $50,000 to $500,000 in damages to aircraft or a nonfatal injury, have doubled in the Navy since 2012.
President Donald Trump says North Korea still poses an "extraordinary threat" to the US, reports Military Times. His recent executive order states that "the existence and risk of proliferation of weapons-usable fissile material" and the actions and policies of the North Korean government "continue to pose an unusual and extraordinary threat to the national security, foreign policy, and economy of the United States."
US Air Force Space Command will send a new military satellite into space in 2020 with the help of SpaceX, reports Defense News.
The Navy announced that one of its pilots died when the A-29 Super Tucano he was flying crashed Friday at a bombing range in New Mexico, reports Navy Times. Lt. Christopher Carey Short of Canandaigua, New York, died June 22 while piloting the light attack aircraft over Holloman Air Force Base.
The National Desert Storm War Memorial will be located on the National Mall near the Lincoln Memorial and Vietnam Veterans Memorial Wall, reports Army Times, after a federal commission approved the site last week.
All veterans might be able to shop in commissaries and exchanges in the future, if Defense Department officials are successful in pushing their proposal, reports Military Times. DoD officials have asked Congress to allow veterans who haven't already earned the shopping benefit as retirees, as well as civilian employees, to be able to shop in the stores.
Contracts:
The Entwistle Co., Danville, Virginia, has been awarded a $14,531,313 delivery order (FA8534-18-F-0060) against a previously awarded contract (FA8533-12-D-0005) for fuels operational readiness capability equipment. This delivery order brings the total cumulative face value of the contract to $65,763,099. Work will be performed in Danville, Virginia, and is expected to be complete by July 31, 2024. Fiscal 2017 procurement funds in the full amount are being obligated at time of award. Air Force Life Cycle Management Center, Robins Air Force Base, Georgia, is the contracting activity.
Raytheon Co., Dulles, Virginia, has been awarded a $7,940,661 modification (P00002) to a previously awarded firm-fixed-price contract (FA4890-17-C-0014) for Persistent Surveillance and Dissemination System of Systems Mission Video Distribution System services. Work will be performed at Shaw Air Force Base, South Carolina; and Al Udeid Air Base, Qatar, and is expected to be completed by July 31, 2022. Fiscal 2018 operations and maintenance funds are being obligated at the time of award. Total cumulative face value of this contract is $40,878,176. Headquarters Air Combat Command, Acquisition Management and Integration Center, Joint Base Langley-Eustis, Virginia, is the contracting activity.
Nisga'a Tek LLC of Herndon, Virginia, was awarded a nine-month cost-plus-fixed-fee contract (HHM402-18-C-0040) with three possible one-year options to provide support services for the National Center for Medical Intelligence (NCMI). The contract has a start date of July 9, 2018, with a potential end date of March 24, 2022, and has a ceiling of $19,292,381. Work will be performed primarily in Fort Detrick, Maryland; and also Arlington, Virginia; Bethesda, Maryland; and McLean, Virginia. This award will support functions such as preparation of intelligence assessments on scientific and technological advances, and performing data searches related to medical systems. Work will be performed primarily in Frederick, Maryland. The contract was awarded non-competitively under the 8(a) program. The Virginia Contracting Activity, Washington, District of Columbia, is the contracting activity.