Girls Soar at STEM-ING Event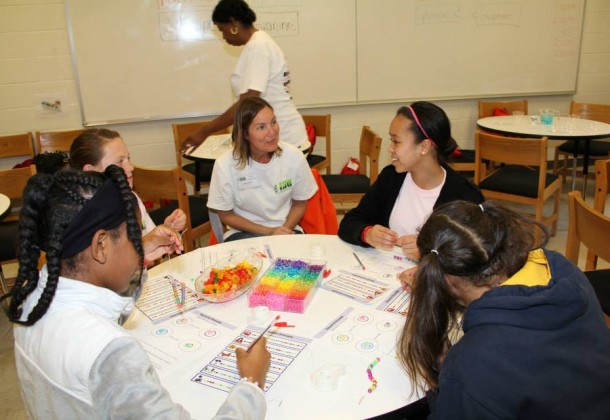 Posted by The Patuxent Partnership
Pax III
By
Sheila Gibbons Hiebert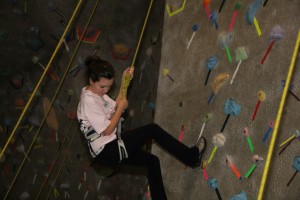 Tomorrow's female STEM stars filled another full day of hands-on experiments and fun at this year's STEM-ING event, sponsored by The Patuxent Partnership with assistance from industry and the educational community.
Participants called it "captivating," "invigorating," "exciting," "unique," and – of course – "awesome."
This STEM-ING experience, drew 128 middle-school girls to 14 workshops designed to intrigue and dazzle them about the prospects of careers in science, technology, engineering and mathematics.
The students were able to take three workshops of their choice. All workshops were led by female STEM professionals from the community so the girls would have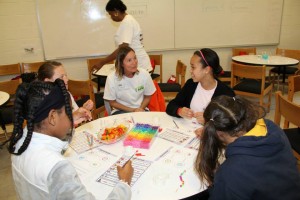 direct interaction with positive, female role models.
Leslie Taylor, Director of Flight Test Engineering Integrated Systems Evaluation, Experimentation and Test Department, Naval Air Systems Command, was the keynote speaker.
STEM-ING is the brainchild of Cam Donohue, an Aeronautical Engineering graduate currently working as a Mission Systems flight test team lead at NAVAIR. She's been involved in STEM student experiences since she was in eighth grade.
"When my bio teacher plucked me out of class and took me and several other girls to an event like STEM-ING," she says, it led to her involvement in Expanding Your Horizons.  The EYH Network began in 1974 as the Math/Science Network, an informal group of women scientists and educators in the San Francisco Bay Area who were concerned about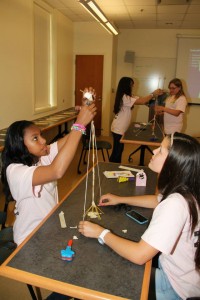 low female participation in math courses. On a volunteer basis, members of the group began planning coordinated efforts to strengthen their individual programs and to offer mutual support.
The concept caught fire with Ms. Donohue, becoming what she called "a lingering passion."
As a propulsion engineer at China Lake, she led EYH workshops for girls. After arriving at NAVAIR, she started an EYH chapter here, recruited a core team and started planning the first EYH event for girls, held in 2013.
"As we got through the planning phases and got through the event, I saw the huge interest and demand from the community. EYH's national program focuses on middle-school girls and I knew I wanted to expand to encompass high school and lower-school girls, and eventually even include boys. I couldn't do that with the national program so I converted our program into STEM-ING."
The May 3 workshops illustrated the range and creativity of STEM pursuits. Here's  a sampling: a cliff-hanging workshop to learn how physics and mechanical science concepts like friction, center of gravity, and equipment design keep rock climbers safe; how dominant versus recessive genes and probability determine genetic traits; an introduction to veterinary medicine; and how energy is absorbed and transferred between objects to create motion.
"Just seeing the girls come back to the main ceremony from each of their workshops, really excited, talking about what they did in each workshop, was the highlight for me," Ms. Donohue says. "After the CSI workshop, for which the FBI had donated forensic gear, the girls wore their white bunny suits, black gloves, and yellow boots to the ceremony to help show what they'd learned."
Ms. Donohue credited the more than 80 volunteers who facilitated all the aspects of the STEM-ING day, with special gratitude to local teachers who generated interest in the event among their students. "Seeing industry and the community coming together was great, a perfect collaboration to support and encourage the girls."
The Patuxent Partnership and many other STEM initiatives sponsored by: