Get Ready for Flu Season!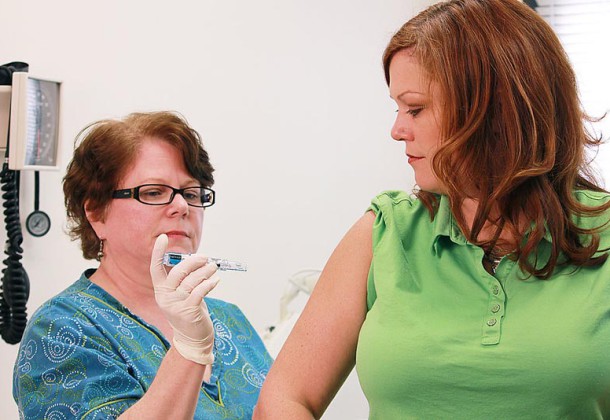 MedStar St. Mary's wants to you to know, flu season has begun and joins with he Healthy St. Mary's Partnership, in urging you to get the flu vaccine.
While flu shots are available any time during flu season, the days between October and mid-November are the best time to get an influenza vaccination.
Influenza is highly contagious. It spreads by both direct and indirect contact. New vaccines are developed each year, so getting a flu shot annually is the best way to fully protect yourself and the people around you.
Click here for more information on influenza. Visit your healthcare provider or pharmacy for your shot!
What is the flu?
Influenza, or flu, is an infection of the nose, throat, and lungs caused by the influenza virus. It is not the same thing as the upset stomach popularly called "stomach flu." The flu is highly contagious and is spread person to person through the air by coughing or sneezing. It is also spread by direct contact with infected people. Flu symptoms usually begin one to four days after being infected with the flu virus.
How do I know if I have the flu?
Symptoms include chills, fever, cough, headache, muscle aches, sore throat, runny nose, and fatigue. It can be a serious illness that causes severe complications such as pneumonia, bronchitis, and sinus infections. Every year, thousands of people die from influenza.
How can I keep from getting the flu?
The most important way to prevent influenza is vaccination. There is a new vaccine every year because the flu viruses change from year to year. The shot you received last year won't protect you this year. People at higher risk of complications should get the flu vaccine each year.
How is the flu spread?
Influenza is spread from person to person by coughing and sneezing. It may also be spread by direct contact with infected people or contaminated objects like door handles or computer keyboards.
If I get it, how can I get better?
There are ways to treat influenza. For the quickest recovery from influenza, get plenty of rest; drink fluids like juice, water, or hot tea; and consider a fever-reducing medication, such as acetaminophen (but do not give aspirin or aspirin-containing products to children or teenagers who have flu-like symptoms – including fever). Do not give any medication including over-the-counter remedies to a child without first consulting with your pediatrician. If a fever lasts more than three or four days, see your healthcare provider. A physician may also prescribe certain antiviral medications. These medications may make symptoms milder if taken within one to two days of when symptoms begin. However, antiviral medication should be limited to those at higher risk for complications.
Who should get vaccinated?
People for whom influenza vaccination is especially important include:
Children aged 6 months to 5 years
Pregnant women
People 65 years of age and older
People of any age with certain acute or chronic medical conditions, including immunosuppression
People who live in nursing homes and other long-term care facilities
Those who might transmit influenza to the vulnerable people listed above should strongly consider vaccination, including:
Health care personnel (including emergency medical personnel)
Household contacts of persons at high risk for complications from the flu
Household contacts and out of home caregivers of children less than 6 months of age (because these children are too young to be vaccinated)
Household contacts and out of home caregivers of adults 50 years of age and older
There are some people who should not be vaccinated without first consulting a physician. These include:
People who have a severe allergy to chicken eggs or a severe reaction to an influenza vaccination
People who have had a severe reaction to an influenza vaccination
People who developed Guillain-Barré syndrome (GBS) within 6 weeks of getting an influenza vaccine
Children less than 6 months of age (influenza vaccine is not approved for this age group)
People who have a moderate-to-severe illness with a fever (they should wait until they are recovered to get vaccinated
For more information and one-click access to a full list of resources available at MedStar St. Mary's Hospital, visit their Leader Page.