Friendly's Replaced With New Shops in Great Mills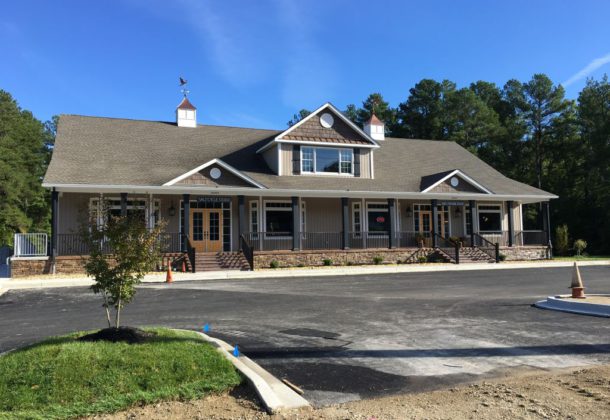 Work is done on the new, two-story shop space at the MD Route 5 intersection with Indian Bridge and Flat Iron roads, just across from street from Great Mills Trading Post, the owner and general contractor for the new, upscale property.
Ebby's Finishing Touches was the last tenant of the old Friendly Tavern building the new structure replaces. The Friendly Tavern structure has operated since 2013 as the showroom for the unique interior design firm. Friendly's came down in October once the interior decorating firm moved into its new digs.
Salt Cycle Studio joins Ebby's with spin classes soon to begin in the other side of the new building.
Ebby's Finishing Touches owner, Ebby Bell, transformed the former watering hole into a bazaar of  textiles in 2013. The showroom displays some of the unusual, special order products the company has become known for acquiring  — tiles, fabrics, wood flooring, window dressings — which are now installed in the new space next door to St. Mary's County's kayak launching facility on the St Mary's River, which flows beneath Route 5 in Great Mills.
Friendly Tavern coming down: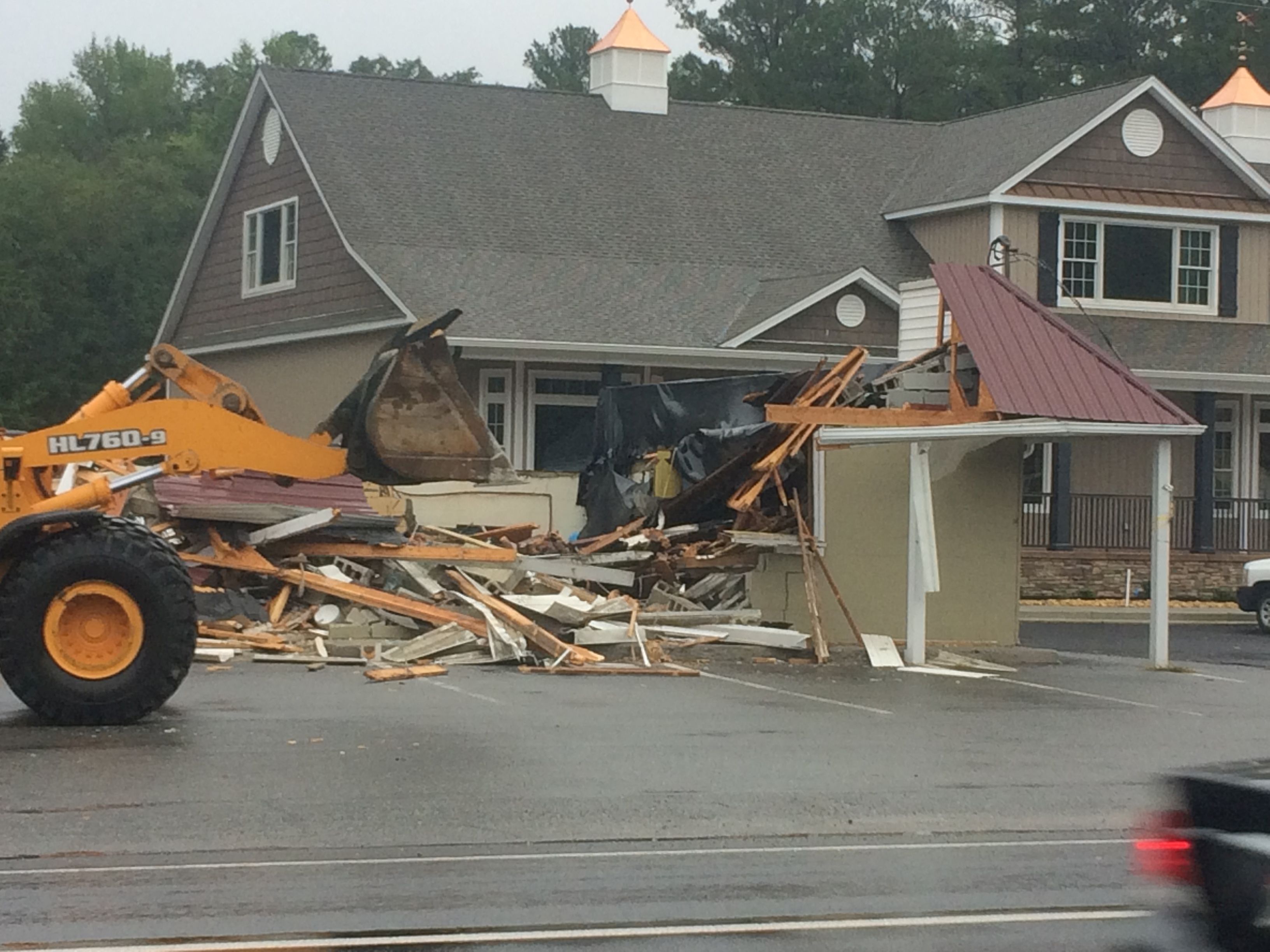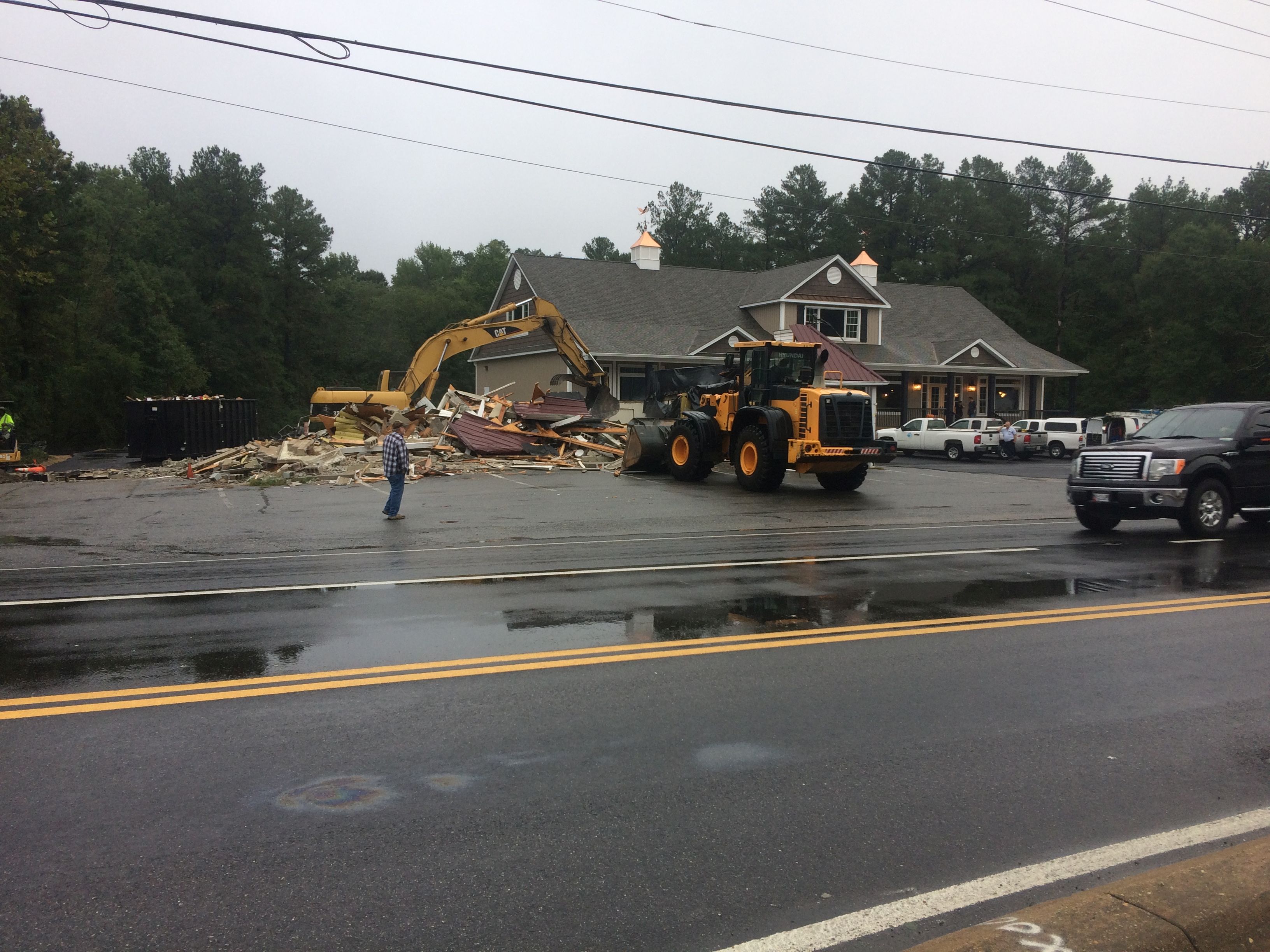 The new construction spruces up the southeast corner of the intersection and the demolition opens up a greater line of sight for drivers. The intersection's facelift was long in arriving.
The Friendly Tavern parcel, just south of Great Mills Trading Post at Route 5 and Indian Bridge Road, was something of a poster-child project for excessive permitting delays. The initial earthworks commenced in late February 2016, 10 years after the first development permit was sought.
Upgrading this segment of MD Route 5 has long been a target of private and public investment interest. Maryland State Highway Administration officials frequently study the highway at this stretch. Immediately south of the kayak launch, the highway crosses the old MD Route 5 bridge, built in 1956. It is the bottleneck, forcing into a single lane,  motorists associated with three of the region's largest employment centers: NAS Patuxent River, Webster Field, and St. Mary's College of Maryland.
So the good news is, it's a new view for commuters who routinely slow through the Route 5 dip into Great Mills. This is what it looked like in early October.
For more information about Great Mills Trading Post, call  301-994-1306.