Franchot Encourages CSM Nursing Students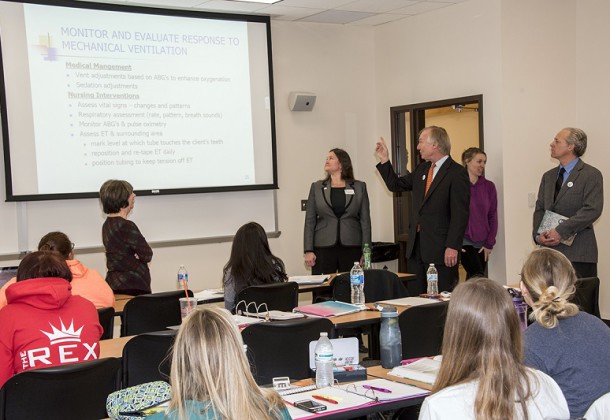 Maryland Comptroller Peter Franchot, center, points to a PowerPoint slide in College of Southern Maryland professor Kathleen Parsons' NUR-2115 Nursing Care of Adults class and tells students that health care is where the growth of jobs will be for the next 10 years.
Comptroller Visits CSM's La Plata campus
Maryland Comptroller Peter Franchot visited the College of Southern Maryland's La Plata campus on Feb. 1 and was briefed on college programs by CSM President Dr. Brad Gottfried, CSM Trustee Chairwoman Dorothea Smith, Calvert County Commissioner Steve Weems, and Charles County Register of Wills Loraine Hennessy.
The briefing was held at the College of Southern Maryland's new regional campus in Highesville, MD. This campus will house the Center for Trades and Energy Training. Comptroller Franchot said, "The private sector is desperate for trained people. The economics are changing — these blue-collar jobs used to be looked down on in favor of a college education. These are good jobs, high-paying jobs."
The Center for Trades and Energy Training will be moving from an 18,000-square-foot leased facility on Irongate Drive in Waldorf to a 30,000-square-foot facility on Route 5 in Hughesville.
Future plans for the regional campus in Hughesville include a health sciences facility accessible to students from throughout Southern Maryland.
"Our goal is to centralize programs, such as health sciences, that would be too expensive to replicate on each campus," Dr. Gottfried said about the College of Southern Maryland's commitment to providing full ranging educational opportunities within the reach of all citizens of Southern Maryland.
Comptroller Franchot also visited the classroom of CSM professor Kathleen Parsons where he told third-semester nursing students that the economy is changing and that future growth in jobs will be in health care.
For a gallery of photos from the comptroller's visit, click here.
For information on the College of Southern Maryland and its programs, visit their Leader member page.