Foreign Military Sales – Opportunities for Pax River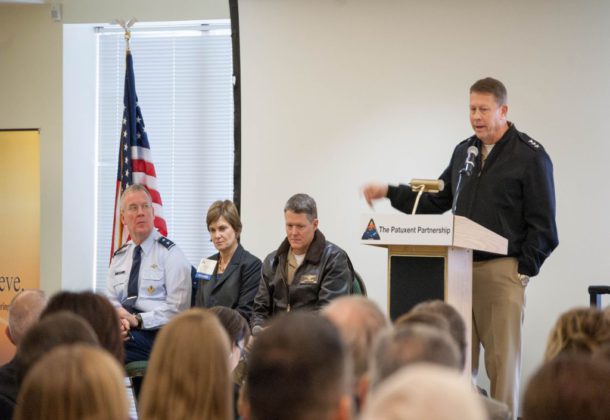 The Patuxent Partnership's (TPP) 2017 opening program, "Foreign Military Sales Essential to US Defense," drew more than 200 members and guests to the Southern Maryland Higher Education Center earlier this month.
The Department of Defense Foreign Military Sales (FMS) program facilitates sales of US arms, defense equipment, defense services, technical assistance, and military training to foreign governments. In 2016, National Defense magazine reported that there has been a 17 percent increase in defense equipment exports since 2010.
The panel, introduced by TPP Executive Director Bonnie Green, included Vice Adm. Joseph Rixey, Director of the Defense Security Cooperation Agency (DSCA) as moderator; Rear Adm. Frank Morley, Deputy Assistant Secretary of the Navy International Programs (NIPO); Maj. Gen. Lawrence Martin, Assistant Deputy Under Secretary of the Air Force for International Affairs, Office of the Undersecretary; and Ms. Ann Cataldo, Deputy Assistant Secretary of the Army for Defense Exports and Cooperation. The panel addressed the importance of the FMS program to US defense and elaborated on the roles of their respective branches.
According to DSCA, no other country offers partner nations the same comprehensive up-front planning and foresight. FMS involves anticipating not only the partner's requirement for the weapons system itself, it includes the associated initial and follow-on support and services necessary to deploy and sustain the system.
Vice Adm. Rixey began with an overview of the role of DSCA. "In addition to foreign military sales we do the whole continuum of security cooperation solutions, from defense institution building to rule of law instruction, to training and logistics, as well as the high-end items. There's a whole host of authorizations for us to buy on behalf of our partner nations," he said.
VADM Rixey also spoke about the importance of FMS, education, training and other activities as a foreign policy tool. DSCA works with the State Department and the Commerce Department to implement numerous programs.
VADM Rixey also noted that there are FMS growth opportunities for the Pax River community.
Rear Adm. Morley discussed NIPO's FMS role in the bigger context of the Navy, stating that, "There are acquisition challenges as well. There is increased interest in FMS on the part of our allies, which creates opportunities here."
"I think everybody here is aware of our design for maintaining maritime superiority … one of those lines of effort is partnerships," he said, "we're about providing and maintaining maritime superiority through partnerships, and you all have a very big piece of that partnership, called security cooperation. That is the tool that we bring, that is the role that we play in the big Navy picture." His office also keeps an eye on broader requirements because the Navy also provides products for foreign partners' air forces and armies.
Ms. Cataldo talked about the importance of foreign military sales in promoting the common defense of the global community. She discussed security assistance, FMS, and other related international sales; armaments cooperation, or government to government building cooperation; and technology transfer. "We are responsible for the cooperative agreements going across the spectrum of Army acquisition, from basic science and technology to actually building major platforms with our allies and partners. This gives us both the cutting edge and defense technology." Ms. Cataldo's work includes Army policy and determining the Army's position on ITAR licenses.
Ms. Cataldo said the Army's priority is "to fight together with our allies. It's building a political will, building resources and actually seeing a will to go out and work in concert on the battlefield."
Air Force Maj. Gen. Larry Martin gave kudos to the services represented on the panel and touted the successful cooperation among the services.
"The Air Force is the smallest it's been since 1947, so in order to effectively do our job, we need international partners," Maj. Gen. Martin said.
Maj. Gen. Martin explained the Air Force's tenet approach to foreign military sales. "Our job is to enable the United States to operate in support of interests the countries share, allow the partners to operate in lieu of us, or allow the partners to work with us." Historically, the Air Force has been good at responding to partners and bad at asking what partners can do. Martin noted that his office partners with about one hundred air forces around the world; some of the relationships are decades old, some are brand new.
The presentations were followed by questions from the audience, where VADM Rixey provided a goal for industry, "Acquisition, technology and logistics (AT&L) owns cooperative programs with their own set of rules. Look at ways to link FMS to cooperative efforts. We are partners; we meet frequently. We coordinate as much as possible. You can rest assured we're looking out for the interest of our warfighter and the United States government, collectively."
About The Patuxent Partnership
The Patuxent Partnership works with government, industry, and academia on initiatives in science and technology, hosts programs of interest to NAVAIR and the broader DoD community, and supports workforce development including education initiatives and professional development. Call 301-866-1739.
To learn more about The Patuxent Partnership and its programs, visit its Leader member page.