For 1st Time, F-35 Pilots Train at Japan Air Base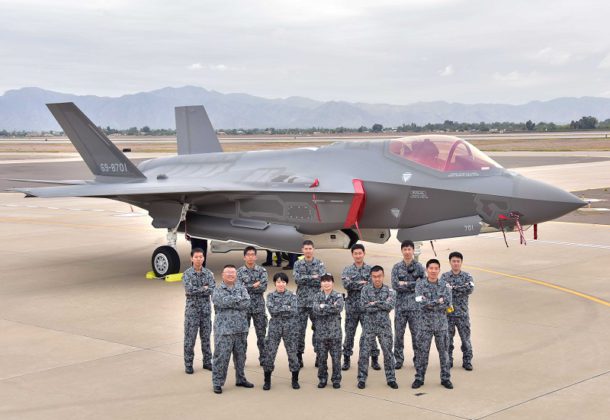 Morning Coffee is a robust blend of links to news around the internet concerning the Naval Air Station Patuxent River

economic community. The opinions expressed here do not reflect opinions of the Leader's owners or staff.
Data from an investigation spearheaded by Military Times revealed that an experimental reconnaissance drone called "Silver Fang" was deployed by the US Air Force to Afghanistan during the mid-2010s. Very little information about the UAS is available. But it emerged within data on aviation mishaps obtained by Military Times, revealing for the first time the extent of Silver Fang testing.
A lightweight glide missile, smaller and more powerful than a Hellfire and fired from a C-130 gunship tens of thousands of feet above the battlefield, is about to start heading to the force by the thousands, reports Breaking Defense.
The Army is partnering with rideshare company Uber to create safer, more lethal UAV missions, reports Army Times. The goal is to create silent rotor technology to reduce the noise caused by traditional UAV rotors.
The USS Theodore Roosevelt has assembled a 35-woman crew that carried out the complicated and physically demanding job of catapult operations on the flight deck, reports Military.com. Navy officials say it is likely a first for the 97,000-ton aircraft carrier.
Authorities in northwestern North Dakota are searching for explosives that belong to the Air Force, reports The Associated Press. A belt of ammunition for an automatic grenade launcher was lost May 4. Airmen walked a six-mile route several times on Friday and did not find the grenades. The explosives are dangerous and specific to the Air Force launcher.
Retired Navy VADM Barry McCullough has been appointed vice president of strategy and business development for Lockheed Martin's Rotary and Mission Systems business unit, reports Inside Defense.
Veteran education advocates are continuing to fight a bill that would sunset a student loan forgiveness benefit for public-sector employees, including service members, hoping their efforts — and the Pentagon's opposition — can keep it from ever getting to a vote, reports Military Times Reboot Camp.
Pvt. Shamika Burrage recently underwent the Army's first-of-its-kind total ear reconstruction at William Beaumont Army Medical Center in Texas, reports Army Times. The new ear was grown on her arm and successfully transplanted onto her head.
Maryland State Board of Elections officials estimate the cost to print new primary election ballots could be $3.5 million, reports Maryland Matters. This comes after the death Thursday of Democratic gubernatorial candidate and Baltimore County Executive Kevin Kamenetz.
Contracts:
The Bell Boeing JPO, California, Maryland, has been awarded a maximum $24,695,613 firm-fixed-price delivery order (SPE4AX-18-D-9433) against a base contract (SPRPA1-17-D-009U) for V-22 spare consumable and depot level repairable parts. This is a one-year base contract with two option periods. This was a sole-source acquisition using justification 10 US Code 2304(c)(1), as stated in Federal Acquisition Regulation 6.302-1. Locations of performance are Texas and Pennsylvania, with a Feb. 7, 2019, performance completion date. Using military services are Navy, Marine Corps and Air Force. Type of appropriation is fiscal 2018 through 2019 defense working capital funds. The contracting activity is the Defense Logistics Agency Aviation, Philadelphia, Pennsylvania.
Bethel Environmental Solutions, Bethel, Alaska (W911KB-18-D-0015); Brice Environmental Services, Anchorage, Alaska (W911KB-18-D-0016); EA Engineering, Science, and Technology, Hunt Valley, Maryland (W911KB-18-D-0017); and Environmental Compliance Consultants, Anchorage, Alaska (W911KB-18-D-0018), will compete for each order of the $48,000,000 firm-fixed-price contract for environmental support services. Bids were solicited via the Internet with 12 received. Work locations and funding will be determined with each order, with an estimated completion date of May 7, 2023. US Army Corps of Engineers, Anchorage, Alaska, is the contracting activity.
USALCO LLC, Baltimore, Maryland, was awarded a $11,773,680 firm-fixed-price contract to provide aluminum sulfate to the Washington Aqueduct. Bids were solicited via the Internet with two received. Work locations and funding will be determined with each order, with an estimated completion date of May 13, 2021. US Army Corps of Engineers, Baltimore, Maryland, is the contracting activity (W912DR-18-D-0017).
Leidos Inc., Reston, Virginia, is awarded a contract modification (HDTRA1-17-C-0019-P00007) to exercise Option Period 1 for a time-and-materials contract with a ceiling value of $33,654,157, and does not include the value of the unexercised options. This contract is for scientific and technical services in support of various projects under the Cooperative Biological Engagement program. Work will be performed at various locations throughout the world. The anticipated completion date is May 13, 2019 (Option Period 1); this contract includes three additional 12-month options that would end on May 13, 2022, if all options are exercised. The contract was a competitive acquisition; the government received 11 offers. The Defense Threat Reduction Agency (DTRA), CTR Contracting Office/DTRA/AL-ACO, Fort Belvoir, Virginia, is the contracting activity.