Flat Iron Farm Christmas Village, Light Display Event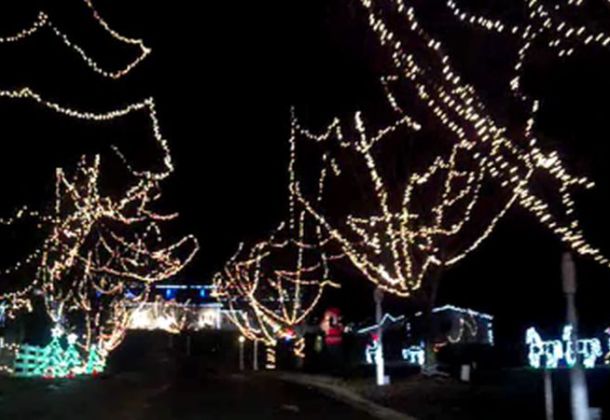 UPDATE DEC. 31, 2017: The Flat Iron Farm light display is now closed for the season. Visit its Facebook page for more information.
It just isn't the Christmas season for some in Southern Maryland, until their annual pilgrimage to the Flat Iron Farm Christmas Village & Light Display.
The light display traditionally opens on Thansgiving and runs every night through New Year's Eve. Visitors can turn into the farm off Flat Iron Road, tune their radios to 88.7, and watch the lights dance to the music through a drive Bubby Knott and his Great Mills Trading Post crews have turned into a magical ride into the Christmas season. The synchronized music and light displays are extraordinary and extensive. It's a drive through Flat Iron Farm not to be forgotten. Exotic animals graze on the grounds amid the grand, computerized lighting events.
In addition to the drive-through light displays, there is a full Christmas Village in operation. Schedule time to stop in and visit. There are pony rides and a chance to see Santa as well as an opportunity to view an astounding collection of memorabilia, find gifts at the Candy Cane House, and much, much more. Take a peek in the video below.
Food and beverages are for sale.
Bring your own marshmallows to roast on the huge open fire pit.
 Each weekend, Thursday through Sunday, and the full week before Christmas, visitors are invited to park cars and enjoy the Christmas Village. Thursdays & Sundays, see Lights, Christmas Village, Open Barns, Pony Rides. Fridays & Saturdays, see Lights, Christmas Village, Open Barns, Pony Rides, Pictures with Santa.
Schedule
Christmas Village, Shops, Indoor Displays: 
November 23 – December 24, 2017: Thursdays and Sundays 5pm – 8 pm; Fridays and Saturdays 5pm to  9 pm
December 18 – December 23: Daily, 6 to 9 pm
Outdoor Light Display:
November 23 – December 31: Nightly, 5 to 9 pm
Flat Iron Farm Christmas Village includes:
Candy Cane House
Petting Zoo, Manger Scene
Train and Tree Display
Christmas Country Stores
Handmade crafts, unique gifts and gifts are available for purchase.
Splendid candies and McCutcheon's jellies and jams will be on sale at the Candy Cane House.
Stop by the Large Brick Building to see a collection of John Deere items and large working train display.
Visit the workshop and see Santa (Call for schedule).
Make this tour part of your Southern Maryland Holiday tradition at Flat Iron Farm at 45840 Flat Iron Road (off of Route 5), Great Mills, MD 20634. 301-994-0300
NOTE: Subject to change due to weather or other extenuating circumstances. Please check the Facebook page linked above or call for most up-to-date information before you go. Ready to see the lights? 301-994-0300.
For more information about Great Mills Trading Post, visit their Leaders Member Page.