Feeling Vulnerable. Again.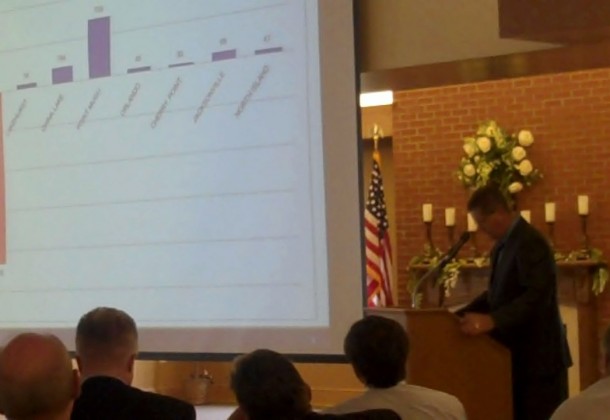 Patuxent River Naval Air Station officials and champions are feeling vulnerable in a way not experienced since the widespread closure of military bases 15 years ago.
Pax River ended up a big winner that time, thanks partially to a concentrated lobbying effort from the Lexington Park community and a powerful congressman.
The problem today is a huge and growing shortage of office space on the base and that there is no way to access military funds to build more. Meanwhile, there's plenty of vacant office space at other naval aviation bases, some also located in the districts of powerful congressmen.
The poor quality of some existing office – as well as there being far too little of it – compounds Pax River's difficulties in competing for new programs, and it threatens existing programs.  Some contractors now arrive with their own trailers, since the base cannot accommodate the workers who are required to work on base at the test facility.
So, the Navy is seeking an end-run solution that involves a cat and mouse game with large-scale developers capable of underwriting an office park  inside the base fence.  The Navy is seeking large-scale developers, because bank's are unlikely to finance the project, since the Navy cannot guarantee it will lease the space. Although (wink, wink), the Navy fully intends to lease it.
A year at a time.
In other words, even if you're willing to bank on the winks, you still just get a year-to-year deal.
This privately-built, publicly-leased, office space scenario has been trotted out once before last year without apparent success. There have been adjustments made to the terms, eliminating most retail uses, but Congressional approval is still needed. Once approval it acquired, it will take at least two years before the projects reaches the start of the construction stage.
Currently, Pax River is awaiting a congressional shepherd to introduce and champion the project through Congress. As in the last big scare, local champions are encouraging the community to pressure their representatives to do so.
Some business owners and local developers in Lexington Park balk at the notion of helping keep more of the Pax River workforce's revenue inside the gate. Already, point out some, retail is suffering and office space is going vacant down Great Mills Road. Others fear that new space under construction on Route 235 could reach completion and find the anticipated workforce now located inside the gate.
The officials and champions counter that, without the capacity to expand its missions, Pax River will shrink. And that impact, they say, would be devastating.
[youtube=http://www.youtube.com/watch?v=Tbzcl1DkKRY]