FDR Boulevard: A Slow Road to Nowhere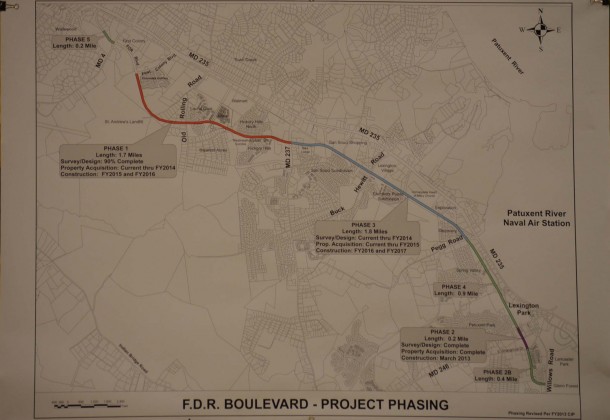 Posted by Viki Volk Publisher

I just don't get it.
How does a new, slow, "shopping" road parallel to Route 235 reduce traffic going to or from work in Lexington Park? Or speed it up? How can more commercial and residential development between Wildewood and Hickory Hills shopping strips improve transportation down the long driveway into Pax River/Lexington Park?
I mean no disrespect.  I'm married to one of the FDR decision-makers who think it will do these things. I disagree. There have been unpleasant dinners.
I say, "Not a single study shows a shopper's road will improve the highway traffic flow." I ask, "Why is a failing state highway the fiscal responsibility of the county anyway?" I harangue, "Shoppers have to return to Great Mills Road or we're all down the tubes."
It's better for county coffers and certainly better for Lexington Park (host to Pax River's largess and detritus) to make more accessible the locally owned business district along Great Mills Road. The economic viability of the district was destroyed a couple decades ago when the state widening of Route 235 took most of the largess and left most of the rest. If there are local economic development funds to invest, the better return for St. Mary's would be redirecting some of that largess down the abandoned corridor than pumping up more franchise trade. So goes my argument.
There is one segment of the long planned FDR Boulevard that addresses this. This segment creates convenient access between Route 235 and Great Mills Road north of the Gate 2 access intersection. It also allows one of the heaviest trafficked segments of Route 235 to avoid one of the busiest intersections on Route 235.
This is the only segment that could actually remove traffic from a congested portion of Route 235 onto an alternative exit route. Not into a cul-de-sac community; not into a shopping center; not into a destination but onto an alternative route out of town. The only segment.
And it is the only segment that in 25 years continually fails to win funding.
You begin to imagine just how unpleasant these FDR dinners can be. If we make it to dessert I am drawing tiny connecting roads between cul-de-sac-ed neighborhoods off Route 235 to cul-de-sac-ed neighborhoods off Great Mills Road. I am talking about bringing services, restaurants and retailers along Great Mills Road within easier reach than franchises along Route 235. All of my roads together total fewer miles than the recently funded FDR segments between Wildewood and Hickory Hills.
Fewer asphalt dollars spent. Traffic off Route 235. Neighborhoods connected to local services and retailers via slow, neighborhood roads. Great Mills Road recapitalized, icing on the cake, pie a'la mode.
No. This is too far. I almost never get this far.
For 25 years, not just these more recent years across the dinner table, FDR dialogue is cut off at those most basic queries. Why is this the county's budget responsibility? What will happen if Great Mills Road continues to be left out of the county economy? When will we invest in ourselves instead of more franchises?
FDR Boulevard? This is how far we get: another sullen morning over strong coffee wondering how we'd gone so wrong, to bring up that old subject again.